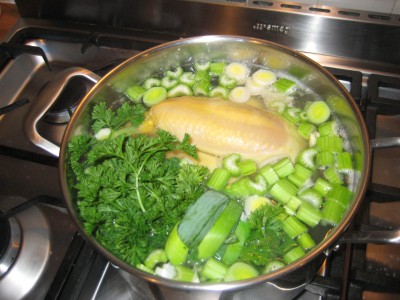 Everyone has their favourite version of Chicken Soup, but what I love about it the most, is that you can make a really luxurious, full bodied version with a whole chicken or chicken drumsticks, or a really budget challenged version with a chicken carcass or wings, and it still tastes absolutely like the best comfort food in the world. Who doesn't remember Mum or Nanna tucking them up in bed with a bowl of home made chicken soup when the winter woes were upon them. Something about the aroma of the garlic, ginger and earthy spices just made you feel better.
My version is just chicken or chicken carcass, simmered with a couple of stalks of chopped celery, a big bunch of parsley tied with a strand of spring onion, a head of garlic, peeled, 12 peppercorns, 3 bay leaves, and some cinnamon, cumin and ginger tossed in at the end. Simmer, strip the meat from the bones, and discard the carcass.
Aromatic and delicious....mmmm...