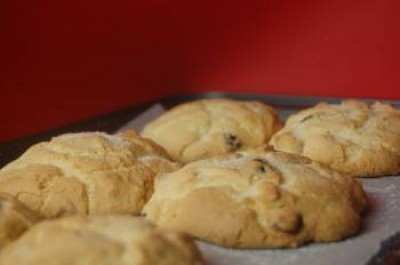 My Aunty Myrtle had a lot going for her. Her butterfly patty cakes remain legend in the family for certain, but her Rock Cakes are the reason I remember her most fondly.
Rock Cakes were the muffins of my childhood. Blessedly quick and easy to make, inexpensive in any form, and a great way to fill hungry tummies any time, day or night. You can add any dried fruit or nuts or combination of both and they'll be equally scrumptious.
Here's my favourite variation on my Aunty Myrtles' famous Rock Cakes.
This makes 12 yummy Rock Cakes.
2 1/4 cups self raising flour, sifted
1/2 cup butter
1/2 teaspoon cinnamon
3/4 cup any mixed fruit (we love 1/4 cup each of dried cranberries, chopped macadamia nuts and dried pineapple pieces)
2 eggs, beaten
2/3 cup sugar
2 tablespoons milk
Line two cookie trays with baking paper and preheat the oven to 200C.
The flour goes into a large mixing bowl with the butter. Rub that in with your clean fingertips until it resembles breadcrumbs. This will take no more than a minute or two.
Add the cinnamon and the dried fruit and/or nuts, and combine lightly.
Add the sugar and milk to the beaten eggs and beat with a fork.
Add the wet ingredients to the dry ones and stir with the fork until well mixed. The mixture should be really firm and stiff, so that the rock cakes bake into that familiar rock-like mound.
Take two dessertspoons, and scoop a generous spoonful of mixture with one, and slide it onto your lined tray with the other. Continue until all the mixture is used. Six rock cakes to a standard sized tray is about right. They'll rise and expand, so don't crowd them too close together.
Bake them in your preheated oven for about 15 minutes or until golden.
Remove from the oven and allow to cool before storing in an airtight container, preferably in the refrigerator in Summer. In Winter, an airtight container in the pantry would probably do.
These are lusciously soft and crumbly and immediately take me back to Aunty Myrtles kitchen with her green and cream cooker and her big frilly, flour covered apron.
I hope you love them too.