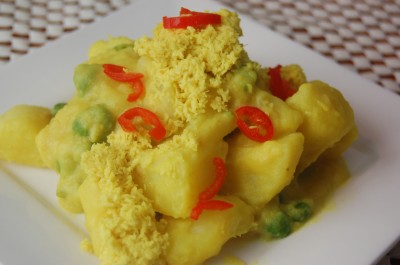 Looking after yourself is a real indulgence in itself sometimes. I'm trying a vegan eating plan for 30 days as part of my own self pamper, and I'm loving what it's doing for my waistline, the environment and my carbon footprint.
This is a really delicious, flavoursome, low fat, and creamy vegan curry, that uses a soy milk infusion in place of coconut milk. I didn't have any and I was determined to make do in the best Simple Savings fashion.
Start this recipe up to a day ahead, or at least 2 hours ahead of when you want to eat, to allow the flavours in the soy milk mixture to infuse.
You'll need:
2 cups soy milk
1 cinnamon stick
1 teaspoon each minced ginger, turmeric and ground cumin
1 cup dessicated coconut
4 large potatoes, peeled and diced
1 large onion, peeled and quartered
2 garlic cloves, peeled and minced
1 bay leaf
2 vegan chicken flavoured stock cubes dissolved in 2 cups of water
1 fresh chilli, deseeded and sliced (optional)
Then you:
Heat 2 cups cups soy milk with the cinnamon stick, the minced ginger, turmeric and cumin, and the dessicated coconut, until it's on the verge of boiling. Remove from the heat and allow the infusion to steep for one hour. Drain the mixture through a fine sieve, pressing the coconut pulp well to extract as much flavour as possible, and discard the cinnamon stick. Reserve the coconut pulp.
Put the liquid back onto the heat and allow it to gently come to a simmer again. Continue to allow the infusion to simmer very gently, stirring often to prevent sticking or burning, until it's reduced by about a third.
Meanwhile, steam the peeled and diced potatoes in the two cups of prepared stock, to which you've added the onion, which has been peeled and quartered, the peeled and minced garlic cloves, and the bay leaf.
When the pototaoes are al dente`, but not completely cooked, remove the softened onion and set aside, and add one cup of frozen peas or any other green vegetable of your choice. Steam until softened slightly.
Puree` the onion by pressing it through a sieve, and add to your soy milk mixture, stirring well. This adds a little creaminess to the texture, in addition to the normal flavour.
Drain the potatoes and peas, reserving the liquid. Return the vegetables to the pan, and add the soy milk infusion, tossing gently and heating through. Add some of the reserved cooking liquid to provide additional sauce if required. Discard or freeze the balance for another dish.
Spoon into bowls and garnish with some of the reserved coconut pulp and the sliced chilli if you like it.
Enjoy!