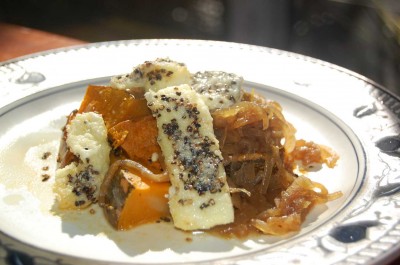 We're coming up to -50c indulgence month in the newsletter, so I thought I'd share a few indulgent food ideas to get us going.
Actually if it weren't for -50c indulgences, there'd be zero indulgences for me.
How come everyone elses's indulgences come before mine?
There's daughters theatrical aspirations, and the husbands 'sanity restoring golf', although he never seems all that sane upon return. Lots of mumbling about rotten luck and bad sportsmanship…lol!
So, me? I'm waaaay down the food chain when it comes to indulgences.
Fifty cents is about all that's left in the kitty as well, so just as well I've got a few treats for me up my sleeve, that cost just about that much.
Cheese is just one of my -50c indulgences. A bit of cheese with some onion confit, served with a glass of warmed sparkling apple juice warmed (yes, warmed!) with some aromatic spices, and I'm happy.
Even better though, is a whole meal of things I like to eat. I nearly always cook what the rest of the family likes, but this one is for me.
My Pan Fried Peppered Feta has all the elements of a true indulgence. Inexpensive, very gourmet-ish, and easy to replicate whenever you like. Even if you don't usually keep feta in the fridge, get some for this. It's mouthwatering.
The trick to this one is to pepper the feta first, then freeze it for a while. This means you end up with a warm, delectable slab of peppered feta, and not a gooey messy pile of feta and pepper smeared over the bottom of your frypan.
I serve this with wedges of pumpkin, roasted with a spray of oil until tender, and some Onion Confit.
I do a whole pumpkin ahead of time, roasting the wedges and storing them in a lunch box in the freezer. They're a great healthy snack or instant meal, head and shoulders above what any quick takeaway. Just cut a whole Jap pumpkin into wedges, leaving the skin on and removing the seeds, and lay on a baking tray lined with baking paper. Spray with cooking spray and roast at 200C for about 30 minutes until tender.
But if that's all too hard, just eat this with a side salad or over pasta…it's just as delish!
Pan Fried Peppered Feta
Serves 4
Equipment required:
Non stick frypan
Dinner plate
Sharp knife
Baking paper
Small shallow bowl
Metal spatula
Ingredients:
1 x 5cm thick (approx) piece of feta
Cracked black pepper or pepper grinder and whole black peppercorns
Note: Set your pepper grinder to the largest grounds
Flour for dusting. Use Rice flour or non-wheaten cornflour for gluten free
Oil for frying
Roasted pumpkin and onion confit or your favourite relish for serving if you want
Method:
Slice your slab of feta in half lengthwise giving two thinner slabs. Cut this into three or four fingers, crosswise. Place the fingers of feta on your plate lined with baking paper.
Using the cracked pepper or your pepper grinder and whole peppercorns, grate or sprinkle each piece of feta generously with the aromatic pepper. I love pepper so I make sure mine are almost entirely covered. It's a bit like doing a pepper steak, so don't skimp!
Press the cracked pepper gently into the surface of your feta, so that it's well embedded.
Now pop your plate and the peppered feta into the freezer for about 20 minutes.
Meanwhile, get your frypan and serving plates ready.
Spread some absorbent kitchen paper or a clean teatowel on the bench, to drain the pan fried cheese.
Set up your serving plates with a wedge or two of pumpkin, sliced into smaller chunks if you like, and some onion confit or your favourite relish drizzled over the pumpkin.
Pour about two tablespoons of oil into your non-stick frypan and put it over a medium-high hotplate.
Remove your well chilled, peppered feta from the freezer. Spoon your flour over the feta fingers, and toss carefully to coat them, before immediately popping the feta into your frypan.
You'll probably need to cook these two or three at a time, topping the oil up a little for the second batch.
Pan fry for about a minute on each side to brown and warm the cheese through. Use a metal spatula to flip them to do the second side. The only reason I suggest a 'metal' spatula is because they're thinner and you can get under the feta slab more readily to flip it.
Remove the pan fried feta to the absorbent kitchen paper or clean teatowel to drain slightly, before transferring to your plate of pumpkin wedges and onion confit or relish.
Serve immediately.
As for the warm spiced apple juice, you'll have to wait for another day for that one!