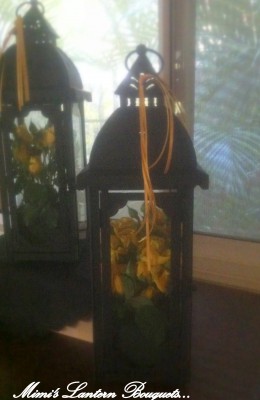 I made these for gifts for a couple of special people today. I think they turned out well, and would make a great gift for birthday, Christmas or Mothers Day, or a gorgeous centrepiece for a special occasion.
They cost just $16 each to make :)
Lanterns from Bunnings $10 each (similar ones available at dollar stores) These are about 45cm tall.
Florist foam, one block, and I only used a third of a block for each $2
One bunch of spray roses $15, and I got these two and another vase filled with roses for another friend out of it.
One roll yellow satin crafting ribbon $1. I used the whole roll for these two lantern bouquets.
So all I did was:
Soak the florist foam, cut to size, in a sink full of water till saturated. Open the door of the lantern, and gently place inside.
Starting at the back of the lantern, cut the rose stems to size, leaving some greenery on them, and poke them into the florist foam. I tried to put the roses lower around the edges and taller in the middle so that they look nice from all sides. I also poked some of the discarded leaves into the sides of the foam to disguise it.
Continue until you're happy with the fullness, but leave a bit of room at the front to close the little door again.
Cut a generous length of ribbon and snip it into shorter lengths and tie in a single knot around the hanging ring of the lantern.
Done :)
Obviously you could also use silk flowers, Christmas decorations, home grown flowers and greenery, or even skewered chocolates.
I was pretty happy as these looked like I'd spent $70 or $80 at a florist and took no time at all, and not too much cash either.
Big smiles from the recipients too :)