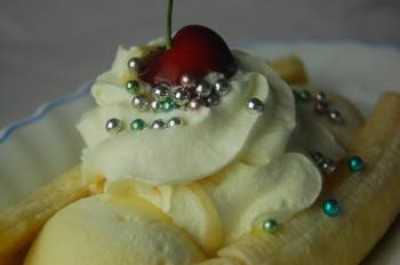 Yes, I know healthy and fun don't always belong in the same sentence. I know my mid section can attest to a little more fun than healthy at the moment. Dash it all, the Festive Season does this to me every time! The brains says no, but the other brain says 'go on, one won't hurt'!
So here's something that's not all bad, a bit of good and a bit of fun, all rolled into one.
A very traditional looking Banana Split, but with a difference. Authentic scoops of icecream, sneakily replaced with Sweet Labna, and drizzled with honey. A match made in heaven.
You'll need:
A clean Chux cloth or cheesecloth or piece of muslin, rinsed and wrung out
A large sieve with fine weave mesh
A large jug that the sieve will sit on without falling through
Small ice cream scoop
The yummy bits are:
1 litre of thick Greek Yoghurt, bought or home made
Honey
1 banana per serve
Whipped cream if you want
A real, fresh, in season cherry to garnish the top of your 'nana split
Long dishes to serve
Then you just:
Drain your yoghurt. It's best to do this overnight, so you end up with a lush, thick, luxurious, creamy blob of deliciousness.
Make room in your refrigerator for your jug. Line your sieve with your damp Chux, and plop in half of your Greek Yoghurt. Drizzle it with honey. Plop in the other half of the yoghurt and drizzle with more honey. Sit the sieve over the top of your jug, and pop into the refrigerator. The whey will drain from the yoghurt over the next several hours, leaving you with a super thick, super creamy 'ice cream' to use in your Banana Splits. We actually adore soft brown sugar in place of the honey too. The brown sugar turns all fudge-like and adds a delectable flavour and texture to the yoghurt cream. Lucious!
Grab your dishes. I sourced mine from the local thrift shop for 50c each, but similar shapes can be found in kitchenware stores. Assemble your other ingredients on the bench. Scoop two blobs of Sweet Labna (yoghurt cream) into each dish. Peel your bananas and slice them in half lengthwise. Sit them up on the edge, either side of your scooped Labna.
Then decorate as you wish. We love those little metallic pastel coloured cachous that cake decorators use, a real, fresh cherry or berry instead of a glace one, and a bit of that whipped cream from a tin. I know, I know..terrible stuff...but we're talking fun food here. And the cream in a tin is fun to use, fun to eat and surprisingly economical. A puff here, a squirt there...no you're not allowed to squirt it straight into your mouth, no matter what Kirsty Allen did in that movie!
Oh my goodness....retro heaven, made healthy. Well, healthy-er, anyway.
See ya. I'm off to make some more blast from the past fun stuff. As soon as I finish my Banana Split!