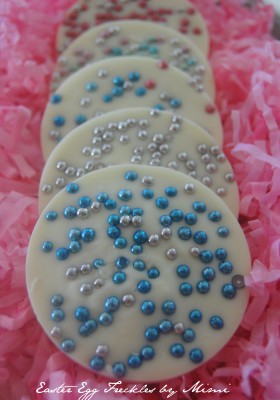 You can use any chocolate you like and they're especially delectable made with Lindt or Couverture chocolate for grown ups.
For the kids, it's easiest to just use Chocolate Melts.
You might have heard about 'tempering' chocolate. I largely find this is unnecessary, as by using the microwave method to melt the chocolate, and removing it before the bits are quite melted, it's automatically tempered. Just zap it and stir every 30 seconds, removing from the microwave when there are still a few chunks, then stir until smooth. Easy!
These are so cheap and easy and pretty, that you might never buy real Easter Eggs again.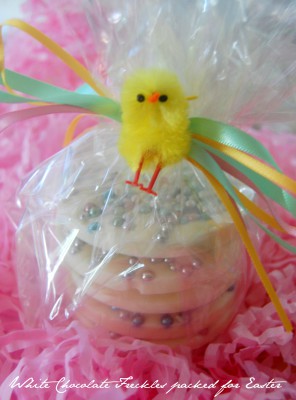 Mimi's cheap and cheerful Easter Freckles
Makes 6 egg ring sized freckles
You'll need:
200gms of chocolate
6 egg rings (or you can do them freehand or use another cookie cutter shape, sticking with more basic shapes like hearts or eggs)
Cake decorating sprinkles of any sort
Clear cellophane for wrapping
Satin craft ribbon and fluffy craft chickens
Baking paper
Then just:
Lay out a sheet of baking paper about 30 cms long, on the bench or table.
Set out the egg rings or cookie cutters or trace shapes on to the paper to use as a guide. This amount of chocolate is enough for 6 egg ring sized freckles, so you need six egg rings, or shapes traced out.
Break the chocolate up and put it in to a microwave safe jug or bowl. If you're using Melts or buttons, then obviously this step is unnecessary.
Microwave the chocolate on 50% power for 30 seconds at a time, stirring it after each zap.
Once it's at the stage, where as I mentioned previously, it's largely melted, but some large lumps remain, remove it and stir vigorously until the chocolate is smooth.
Divide the chocolate equally between the shapes or rings, and smooth the tops. Sprinkle with 100's and 1000s or my favourite, metallic pearl cachous.
Allow to sit for about 15 minutes until firm. The ones done on traced shapes will just lift off. The ones in cookie cutters or egg rings need to be very gently pressed around the edges to release them. Gently does it though or your freckles will break.
Sit your freckles on top of one another inside a large square of clear cellophane and tie it off with some ribbon. Stick a fluffy chicken to it with a piece of tape would with stick side out into a ring, and stuck to the back of the chick, then to the wrapping.
Done!
A really gorgeous Easter gift for about $2-$4.
You can use different types of chocolate, you can marble two kinds of chocolate together, you can layer dark and white, use different sprinkles, or decorate the top one with a sugar rose or other sugar ornament from a cake decorating supplier.
Have fun!