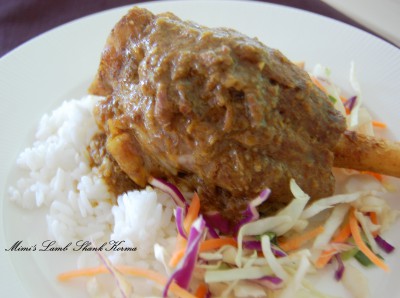 We love lamb shanks at this time of the year.
Melt in the mouth tender meat, with scrummy sauce and mash or rice...the ultimate in comfort food.
I find though that many of the lamb shanks I buy these days are larger, and tougher than we're used to, and unless they're simmered in the slow cooker all day, the amount of meat that clings to the bones is criminal! I don't always have time for an all day simmer or actually don't make that decision early enough in the day, more to the point, and you would have thought three hours in the oven would do the trick, but not so.
They're also more expensive since someone deemed them a gourmet food, so it's worth using them frugally.
Rather than wasting all that lovely meat and flavour, I carve as much meat as I need to serve as a meal (there's more than enough on a shank for one person), then retain the bones and remaining meat for the soup. I usually make sure I hold a bit of the meat back, even if it is tender enough to fall from the bone, as my daughter and I would share one, they're so huge!
Depending on the size of them, I sometimes buy one more lamb shank than we need to ensure we get enough meat for a main meal, then use the bones and the remaining meat clinging to them, to make a delish soup for the second meal. I only do this because my husband likes the soup meaty, otherwise, frankly there's enough meat on the shanks to make a lovely soup.
Lamb Shank Korma
Serves 4
4-5 lamb shanks
1 jar Korma paste (you can make your own, but this is one of my little luxuries!)
1 onion, peeled and diced
1 tin coconut milk
Then just:
Put the lamb shanks in a casserole dish or slow cooker, add the onion, and Korma paste mixed with the coconut milk (if using the slow cooker, add the coconut milk at the end).
If you're cooking this in a slow cooker, I'd give it 2 hours on high, then 4 on low, and if you're doing it in the oven, I give it one hour on 200C fan forced, then 180C for two to three hours. You can also do this on the stove top if you have a large enough saucepan and in that case, bring to a boil, then turn to low for about 2 hours.
Serve with mash or polenta or rice, and steamed veg. I often make a sort of pilaf, with pre-cooked brown rice, pan fried mushrooms and toasted flaked almonds, with some topped and tailed snow peas stirred through at the end just to warm them through. Very yummy!
The next day, I'll make the soup, and we'll enjoy that for lunch or dinner for at least one, if not two more meals.
Spicy Lamb and White Bean Soup
Serves 4 plus leftovers for lunch if you're lucky!
Lamb shank bones with remaining meat on them
8 cups water
8 vegetable stock cubes (or any, really)
2 tins cannellini beans, drained
1/2 teaspoon each ground cumin, ground coriander, garlic granules, dried onion flakes, and ground ginger
2 teaspoons curry powder
Then just:
Put the lamb shanks in a large pot and add the water. Add a little more if necessary to cover the shanks.
Add the stock cubes and spices, and the drained cannellini beans.
Bring to the boil, and simmer on the stovetop on low for 4-6 hours or until the meat falls from the bone. This can take a ridiculous amount of time with the larger shanks.
Once the shanks have shed the succulent meat, remove the bones, and trim the sinew and fat from the meat chunks if you wish.
Refrigerate the soup for several hours or overnight to allow the fat to rise to the surface. Adding a couple of trays of ice cubes to the soup to cool it quickly, will hasten this process.
Skim the solidified fat from the surface of the soup, and reheat it in your large pot. Add the curry powder, and bring to a simmer. Simmer for five minutes to ensure the ingredients are all brought up to temperature and the flavours come to life.
Serve with chunks of home made bread, toasted lavash, or thick toast.
Note: The soup can also be made in your slow cooker if you prefer. I just find it easier to refrigerate if I do it in a saucepan.
:)