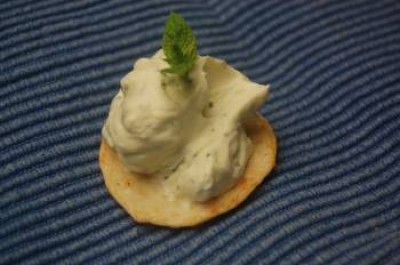 I adore those little foil packets of special cheese. You know the ones that are all crinkly around the edges and unfold like a little present? They seem special just for that, but I don't buy them for the crinkly foil.
I buy them for the flavour, and the memories they invoke of being somewhere more exotic than my very basic Aussie kitchen. But they're ridiculously overpriced. The money I'd fritter away on one little gift wrapped type cheese, will buy me a couple of dozen eggs or several litres of milk, so it's not a priority in the weekly shopping.
So how do I fulfill my craving for mouthwatering cheese on crackers at 3pm? Well, seriously, you've got to ask? I make it myself of course. And my cheese spread makes 5 times the quantity for less than the price of one little crinkly foiled French cheese.
One whiff of this yummy cheese and I'm transported to either my Grandmothers kitchen which was always redolent of fresh dill, the heady sweet scent of milk straight from Daisy's udder and fresh onions from the garden, or a holiday location with balmy breezes, and tall glasses of something mysterious.
This is seriously deliciomoso stuff though, and makes normal cheese or dip appear a little ordinary by comparison. I've used it on crackers, on rice cakes, on toast, dabbed on top of steamed or baked potatoes, as a stuffing for hollowed out tomatoes, on pizza, in toasties, in place of guacamole and sour cream on nachos, in celery sticks, in a cheesy baked rosti, lasagna or macaroni cheese, over poached chicken breasts and as a side for anything from salmon to prawns to vegetable sticks.
It's the most fantastic flavour base for so many things and eliminates the need for complicated cooking and adding pricey packeted recipe mixes to your shopping list.
Give it a try and see if it doesn't make you feel like you're somewhere posh.
Aromatic Herby Cheese Spread
Makes about one and a half cups
1 x 250 tub Light Cream Cheese (I just use the generic brand)
1 x 250gm tub Light Ricotta
1/2 small onion, grated
2 cloves fresh garic, crushed
1 tablespoon minced dill or 2 stems freshly chopped dill
Pinch of salt
Pinch of pepper
Put the lot into a mixing bowl, and mix with electric beaters or beat with a wooden spoon, until smooth. Store in a covered container in the refrigerator.
Resist the urge to leave a spoon in it and eat it straight from the fridge. Not that I'd know anything about that....