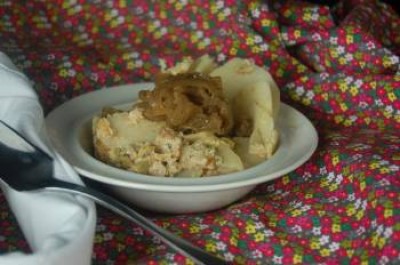 I was stumped for a dinner idea over the weekend. You know how sometimes you just stare at the refrigerator, and it stares back beligerently, daring you to buy takeaway? That's how it was. But my Simple Savings habits are so ingrained, that I wasn't giving in to a surly crisper, so I came up with a yummy one dish bake that was so successful, I've had a repeat request for the same thing this weekend. Meanwhile, the refrigerator and I are back on speaking terms. Well, except for that frosty buildup in the freezer section, but we'll deal with that another day.
One Dish Chicken and Potato Bake
Serves 4-6
Equipment required:
Casserole dish about 20 cm square
Sharp knife or mandolin slicer
Small mixing bowl
Whisk
Ingredients required:
2 cups leftover chicken or any other leftover meat
3-4 large potatoes
1 cup frozen or fresh diced veges
2 eggs
1/2 cup milk, cream or evaporated milk
2 cups grated cheese (optional)
Cooking spray
Method:
Preheat your oven for about 5 minutes before you start, no longer. It will have heated to the right temperature by the time your dish is ready for baking.
Spray your dish liberally with cooking spray.
Shred your chicken or dice your other leftover meat into uniform pieces.
Peel your potatoes, and slice them thinly with your sharp knife or mandolin slicer.
Spread a layer of potato slices in the bottom of your dish, and follow with a scant layer of veges, then grated cheese, then one of chicken. Repeat this at least twice, finishing with a layer of cheese.
Mix the eggs and milk, cream or evap milk and some seasoning, and pour it over your layered yummy bits in your dish.
Pop it into the oven and let it bubble away for about 45 minutes. Stick a skewer into the middle and if it goes in and comes out without resistance, it's ready.
Serve big generous spoonfuls in smaller bowls. This is a dish that can't be prettied up too much (and you know what a stickler I am for presentation), so be content with 'ugly but comforting', and enjoy! Plop a big spoonful of caramelised onion or relish on top if it makes you feel better.
A crisp white real cloth serviette marks this up a notch on the posh-o-meter, and I love my original Splayds, rescued from the thrift shop still in their original box, for an added bit of panache. And don't forget the candles. Everyone and everything looks prettier by candlelight!