I just thought I'd share this idea I had last night as it could end up being a really easy, inexpensive Christmas gift.
I was rehoming a heap of stuff into those big opaque plastic tubs and wanted some linen sachets to go inside.
Instead of using the traditional lavender or rose images online, or making fabric ones, I decided to print out holiday photos on A4 paper and use them.
I filled them with the last of the talcum powder I wore on our Wedding day nearly twenty years ago. It was Clinique Aromatics Elixir, and I still love it. This was from the original tub bought for the big day.
I printed the pics out, folded the edges of the paper around them and glued it with glue stick, making sure it was sealed properly, then just put a half teaspoon of talc in each one.
I finished them with a sliver of satin ribbon, stapled to the top middle, and tied in a bow.
I think they look lovely, and now, every time we go to the storage for sheets or seasonal clothing, we'll be reminded of a lovely day, and happy holidays :)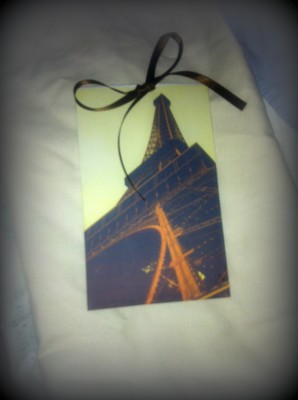 Eiffel Tower, obviously. I altered the colour of the photos using Picasa, and utilised the 1960s, Cross Processing, and Saturation enhancements to give them a Vintage look.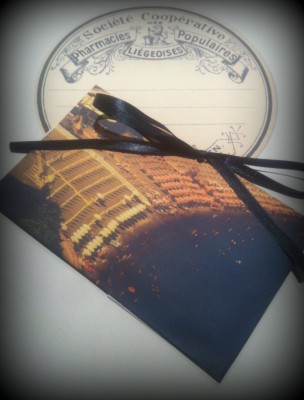 This one is The Bay of Naples from our recent cruise.
I matched the ribbon to the colours in the photos, so chocolate brown for the Eiffel Tower, and navy blue for The Bay of Naples.
I'm really happy with them, and know I'll be making more for gifts.
:)