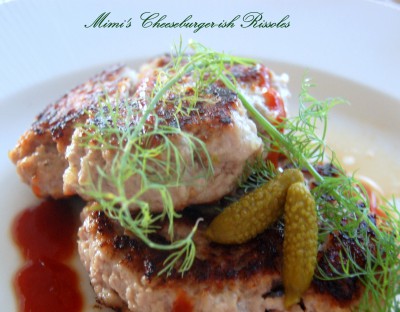 Here's a recipe I've discovered by serendipity, as so many good ones are.
Last night I had some mince to make rissoles. I was lacking inspiration as I was tired so I just went by instinct.
No eggs, used whole egg mayo.
Having used mayo, didn't think I could use Italian spices so threw in some minced Dill and wholegrain mustard. That just sounded about right for some reason.
Added some dried onion and garlic as I'd dithered for so long that I didn't have time to cut up some fresh, and the hungry hoardes were become hungrier by the minute.
Chilled them for a while then tossed them into the pan until golden brown.
We all bit into the rissoles and said almost the same thing at the same time....'tastes like a cheeseburger'!
Well, you know the pickles they put on those things are 'Dill pickles' as in the herb, Dill.
And the whole egg mayo and mustard, gave them a mouthwatering salty tang, similar to the cheese and tomato sauce combo on a cheeseburger.
Winner!
I'm not saying it's any competition for that famous cheeseburger, but if you've got a craving for a nice rissole (or a cheeseburger), then this is worth a try :)
So here's the recipe:
Mimi's Cheeseburger-ish Rissoles
Makes 6
500 gms mince (I had Pork but any sort will do)
1 generous teaspoon minced Dill
2 teaspoons wholegrain mustard
2 generous dessertspoons whole egg mayo
1/4 teaspoon granulated garlic
1 level teaspoon dried onion flakes
Pinch salt
Then just:
Combine all ingredients in a bowl.
Form into six large balls, and refrigerate for up to an hour to firm them up.
Pan fry over a medium heat, flattening them out with a spatula once they hit the pan. I did about four minutes each side.
Serve with fries and a salad for authenticity ;-)
Yummy!