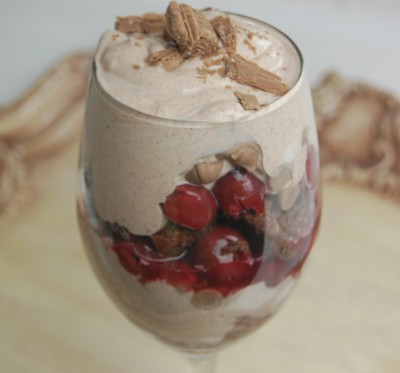 What can I say? Potential Christmas dessert? Something to impress the guests? Or Friday night treat for the family?
I give up. All I can say is, it's easy and you have to try it!
To make six small or three disgustingly large Black Forest Trifles you'll need:
About half a bought or baked Chocolate cake or 3 chocolate muffins, broken into walnut sized pieces
1 jar pitted Morello Cherries, drained, juice reserved
3-4 tablespoons chocolate chips or grated chocolate or cacao nibs
2-3 cups plain sweetened Greek Yoghurt
3 tablespoons Cocoa
Then just:
Beat the yoghurt and cocoa together in a small bowl till smooth and combined. If you can't get the plain sweetened Greek Yoghurt, then feel free to add a bit of sugar to normal thick Greek Yoghurt. I use my own EasiYo Greek yoghurt, and add a bit of sugar when I'm making it up.
Divide half of the chocolate cake between the wine glasses or water glasses.
Drizzle about a dessertspoon of cherry juice over that.
Sprinkle with a pinch of chocolate chips and layer about half a dozen cherries in each glass.
Add three dessertspoons full of Chocolate yoghurt.
Repeat layers and drizzling of juice, finishing with a blog of yoghurt and some crumbled mini Flake or more choc chips or cacao nibs.
Yummmmmm!!!!!