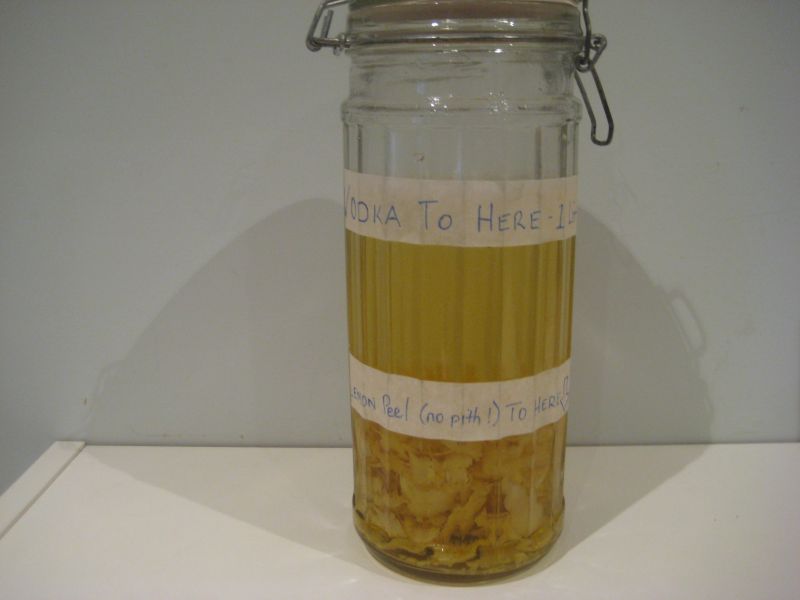 Well, here's the Limocello on Day Seven. It's turning the right colour, and the lemon peels are fading, so we're on track. Seven more days, and we're ready to strain, mix with sugar syrup, rebottle and rest until Christmas.
I'm persevering with the knitted coffee cup cozy, and am proud to say, that I am nearly finished one....yes one only....well, I never said I was a speedy knitter :)
Meanwhile, here is the recipe I've used to utilize the lemons left over from the Limoncello making jaunt. This is already a family favourite for Christmas gifts and looks fabulous in those el cheapo swing top bottles from the discount stores.
3 litres boiling water
30 gms cream of tartar
30gms citric acid
30gms epsom salts
1 1/2 kg caster sugar
10-12 lemons
1. Juice the lemons.
2. In a large saucepan, combine all ingredients.
3. Stir over a medium heat until the sugar dissolves.
4. Pour into cleaned and sterilised bottles while hot.
5. Allow to cool before replacing swing top lids.
When cooled, store in refrigerator. Mix with iced water, soda or mineral water for a refreshing summer drink.
If you are giving this as a gift, make sure you include instructions on storage and use. Best kept refrigerated. Keeps for at least 12 months.