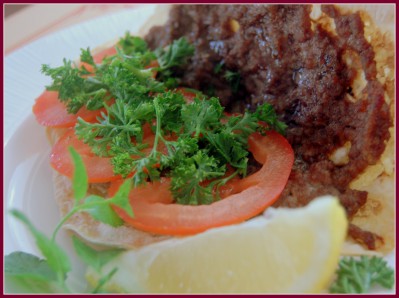 These are a super fresh tasting, and easy alternative to traditional pizzas and we prefer them to normal pizza.
They're easy, quick, and really flavourful. They're something like a burrito, a bit like a pizza and not quite like a wrap, and they're delicious!
Traditionally, you make a yeast dough, and the resulting base is sort of soft and springy and chewy, a bit like a bagel.
But I've found that using ready made tortillas works well. If you want to try the traditional Turkish Lamuchun, there are plenty of recipes for pide dough online, but it's all too hard for me with a busy family life. We use a generic brand (Woolworths Select) of white corn tortillas which are gluten free and perfect for these.
Try these. They are so much lighter and tastier than traditional Italian style pizzas and they're a really lovely change.
You need:
For four people
500gms Lamb mince
1 onion, peeled and diced
2 cloves garlic, peeled and crushed
2 teaspoons Ground Cumin
1 teaspoon Ground Coriander
1/2 teaspoon Paprika
1 dessertspoon tomato paste
Pinch chilli seeds or 1/2 fresh chilli, sliced (if you like chilli)
3 tomatoes, sliced thinly
1/2 bunch curly parsley, chopped (optional)
2 tablespoons fresh mint, chopped
Lemon wedges
Tortillas 1-2 per person
Then just:
Preheat the oven to 200C. Line baking trays with non-stick paper if you wish.
In a medium bowl, combine the mince, onion, garlic, tomato paste, cumin, coriander, paprika, chilli seeds if using them, and chopped mint.
Divide the mince mixture evenly between the flat tortillas, covering them thinly. You just want them barely covered with the mince or the topping will be too heavy for the tortillas, and they'll break. Traditional Lamuchun on Pide dough, also only have the barest whisper of mince topping. Their flavour is derived from the herbs, spices and lemon.
Bake the pizzas for about 10-15 minutes until they are golden and crisp at the edges and the mince is browned.
Remove them to dinner plates and layer one half with sliced tomato and chopped parsley. Serve with a lemon wedge on the side.
To eat, squeezed fresh lemon juice over them, fold in half like a taco and enjoy.
Note that any greens will lighten the flavour, so feel free to use freshly chopped coriander, shredded lettuce or rocket, or thinly sliced cucumber in place of the parsley.
Yummy!!!!!!