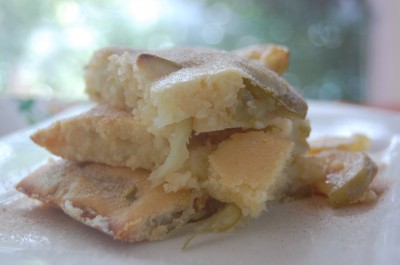 We just love a good apple pie.
However our recent wrestle with gluten sensitivity, rules the bought version out these days.
Here's my solution. A big tray of steaming and fragrant fruity gorgeousness, all soft and pillowy and delectable.
And the bonus is that your house will smell better than any commercial air freshener, ever!
APPLE TRAY BAKE
Serves 8-12
Ingredients:
1 cup yoghurt, any flavour
1 cup butter, melted
3 eggs
2 cups plain flour (I used gluten free of course!)
1 cup sugar
1 teaspoon vanilla essence
3 apples, cored and sliced thinly (a mandolin slicer is ideal for this)
Icing sugar or cinnamon sugar to serve
Method:
Preheat your oven to 160C.
Lightly grease and flour a large baking tray or large lasagna dish.
Now is the time to melt the butter in a microwave safe jug and allow it to cool slightly. Once the butter has cooled a little, mix it with the yoghurt.
Crack the eggs into a large mixing bowl, and add the sugar. Beat this with electric beaters until creamy and pale. This usually takes about 60 seconds.
Add the yoghurt and butter mixture, and reduce your beater speed to low, mixing well until combined.
Use a metal spoon to fold in the flour, vanilla and apple slices.
Pour it all into your prepared dish, smoothing it out and making sure that the apple slices are evenly distributed. Pop it into your preheated oven.
Depending upon the size of your dish and your ovens idiosyncrasies, this takes between 40 and 55 minutes to cook. It's done when it's golden brown, and firm and a skewer inserted into the centre comes out clean. Sometimes I find an extra ten minutes with the temperature turned up to 200, gives the Bake an extra crusty top.
Serve dusted with icing sugar, or sprinkled with cinnamon sugar with a little cream, custard, icecream or yoghurt on the side if you wish. One layer of Apple Tray Bake is yummy, a tower of layers sprinkled with caster sugar or cinnamon sugar is a sight to behold and hard to resist!
This is a great one to serve for a crowd, or for one very greedy family...he-he!