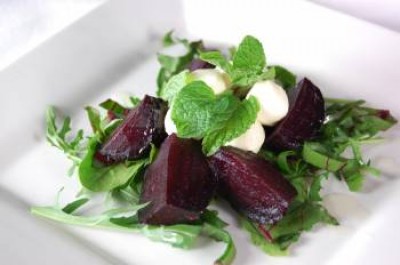 Beetroot, Bocconcini and Mint Salad
I still remember when beetroot only ever turned up in pink soggy sandwiches in your lunch. We all had them. Mothers in the '60s and '70s were really into convenience food. Convenience at that stage being limited to what one could get out of a tin or box from the Four Square store down the road.
Occasionally, some brave soul would lay some beetroot on top of your lettuce when you had salad for dinner on a hot summer's night. I hated that. I'd have to pick the icky pink out of my salad before I could manage to eat any. Then someone forced borscht upon me when a Russian food Night was deemed a necessary part of international food studies at high school. Suffice to say, the consequences were that I refused to look at beetroot for many, many years.
Then, quite recently, some roasted beetroot turned up on my plate in a pseudo swanky restaurant we visited with Number Two Son in Sydney. It was earthy, almost crunchy, scented with mint and tossed with small delicate orbs of cheese and lemon zest. It was utterly, surprisingly delicious. Finally, beetroot had found a place in my heart! Until that point, I had no idea you could roast fresh beetroot. Neither did I realise it did not have to be pickled in vinegar to be considered edible. In fact, roasted and tossed with a teeny bit of butter or lemon and eaten warm, is now my favourite way to consume it. Even better, beets are easy to grow. I grew five of them last year. Just five, but that's still one more than the number of strawberries I managed! And the beets that didn't do so well provided us with lush, coloured leaves for salads and pesto for absolutely months. So really, why wouldn't you grow beets over berries? Too much trouble those blinkin' berries.
Now and again, Husband suggests burgers for dinner, complete with tinned circles of beetroot lining them, making the edges of the bun soggy pink. I indulge him. However, I abstain from rounds of rosy beet, as the flashbacks to schoolyard-scabby- gravel-rashed-knees and the ensuing recollections of the redolent odour of Mercurochrome make me woozy….
To make this one you'll need a baking dish, a sharp knife and a large serving platter.
Here's your ingredients list for enough to serve four:
4 fresh beetroot, with leafy bits removed and reserved for the salad
250g of baby bocconcini
Several sprigs of mint
Juice of half a lemon
1 teaspoon honey
To prepare, preheat your oven to 200c. Pop the beets in the oven in your baking dish. Do nothing else to them. Seriously. No oil, no nothing. Roast 'em for an hour or until you can skewer them easily. Take them out, let them cool, peel them, and quarter them.
In the hour they're roasting, wash the leafy bits of the beets, and dry them well. I use a salad spinner, but my aunt used to put them in a tea towel and swing them around her head. She'd even sing while she was doing it. And my family wonder where our little Diva gets her talents from… sheesh.
Shred the beetroot leaves finely with your sharp knife and set them aside. Strip the mint leaves from the stalks and give them a rinse, and a nice little pat with a dry tea towel. Put the lemon juice and honey into a little cup and warm it up in your microwave for about 20 seconds. Now you're ready to put the salad together. And it goes like this…
Plate-beetroot leaves-beetroot quarters-bocconcini-mint leaves-lemon honey dressing-dining room table-mouth-yum.
Our girl, The Gourmand, adores her bocconcini marinated in a little rice bran oil with garlic and Italian herbs. She reckons that makes them taste like chicken nuggets. Who am I to argue with her?