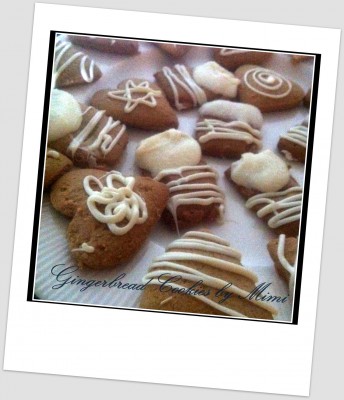 So last night at 8pm, my teen daughter, bless her, says to me "oh yeah Mum, I have to have a food from another culture to take to Dance class tomorrow". Food? At Dance class? What the? Tomorrow???
Oh, and she adds, it can't be sushi, fried rice, meringues, pavlova, Thai chicken, Miso or any one of a dozen useful things that I could whip up in an instant. It has to be something nobody else will think of.
Oh, AND, it has to be from a culture that has a national Dance.
Really. It's getting ugly.
So after a bit of questioning, she decides on the Tarantella, which she insists is Polish. I think it's Italian, but I'm not about to argue. It's now 8:15, and I'm fighting a virus and losing, so I'll go with Polish.
In an inspired stroke, she discovers that Gingerbread cookies, are also known as Pierniczki in Poland, and she's pretty sure nobody else will think of that. I'm sold.
Here's the recipe I used. It's part Internet, part channelling my Nanna. Whose second husband was Polish. Close enough.
This makes about 60 bite sized cookies.
As an aside, these are of course, perfect for Christmas, Christmas in July or just for eating :)
You'll need:
2 eggs
1 cup caster sugar (or any really)
1 teaspoon each ground Cinnamon and Ground Ginger
1 whole clove, crushed to a powder
1 teaspoon Bicarb Soda mixed with 3 dessertspoons water
3/4 cup molasses (or honey or golden syrup)
3 cups plain flour
1 cup white chocolate Melts for the drizzle glaze
Baking paper
Cling wrap
Small ziplock bag
Rolling pin
Then just:
Preheat the oven to 200C. Line two trays with baking paper if you're cutting them into shapes, or see below *.
Crack the eggs into a medium mixing bowl and add the sugar. Beat with electric beaters until a pale lemon colour...about a minute.
Add the cinnamon, ginger, crushed clove, baking soda solution, and molasses and mix well for a few seconds.
Add the flour, half a cup at a time, and combine with a spoon by hand.
Form into a ball of dough, wrap in cling wrap and refrigerate for thirty minutes. That part was annoying at 8:45 at night!
Put a sheet of baking paper on the bench, and add one third of the dough. Put the remaining dough back into the refrigerator. Top with a second sheet of baking paper, and flatten the dough with your hands. Use the rolling pin, and roll the dough out to about a half centimetre thickness. I just approximate this. Gingerbread cookies should be nice and thin, but no so thin that you can't get them off the paper to put them on the tray to bake!
* Now you can either cut the dough into shapes with cookie cutters, and using a thin edged spatula, transfer them to the lined trays for baking OR you can leave the dough on the sheet of paper you have, and simply cut them into little rectangles or squares with a sharp pointed knife, which then means you can leave the shapes on the paper they're on to bake them. This saves a lot of fiddling!
Bake the Gingerbread Cookies for about 10 minutes, or until just browning at the edges. Thank goodness they bake quickly!
Remove from the oven and allow to cool for just a few minutes, before using a thin edged spatula (Barbecue tools are ideal) to remove the cookies from the paper before they stick. Set aside to cool completely.
Repeat the process with the remaining 2/3 of the ball of dough, doing 1/3 at a time. Allow the cookies to cool, then lay out on the bench, ready for drizzling with your white chocolate.
Put the white chocolate melts in a microwave safe bowl, and zap them on 50% power for about 90 seconds. Remove the bowl carefully and stir the chocolate until it all melts and becomes smooth.
Fold the top of your ziplock bag down, and scoop the melted chocolate into one corner of the bag. Fold the edges back up to full height, and force the melted choccie into the corner, icing bag style. Take the bag over to your cookies.
Now the fun part.
Snip the tiniest, teeniest corner off the bag, and very gently squeeze it to allow the chocolate to flow. Wave the melted chocolate back and forth over your cookies to get a sort of zigzag effect. Alternatively make little dots, stars, hearts or any other embellishment that takes your fancy. I spread chocolate on one end of some of ours, and sprinkled them with edible glitter...you know how dancers love a bit of glitter!
Allow the chocolate to set firmly, then transfer the cookies to airtight containers, gift bags or noodle boxes for gifting.
Your house will smell lovely and for me, mission accomplished!
Enjoy!