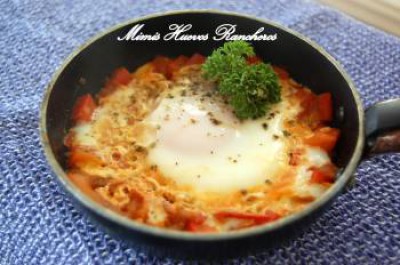 In line with the idea of Pantry + Garden = Yum, and Peasant Food, which we've all been discussing on the Controlling our Budget thread, I thought I'd add my recipe for Community Huevos Rancheros.
This is a spicy Mexican oven baked or one pan meal, which costs very little, and is really high on the Yum Scale. I call it Community Huevos Rancheros because the ingredients have come together, a little bit from here, and a little bit from there.
You really only need four main ingredients and a couple of spices for this, and as a Sunday brunch or light meal, it's got real wow factor.
If you grew your own capsicum, green shallots, chillies, tomatoes or cherry tomatoes, and had your own chickens, then this meal would cost nothing except for literally a few cents worth of spices. That WOULD be awesome and all of those are amongst the easiest ever things to grow.
In my case, my son has grown the capsicum and the chilli plant in his tiny courtyard from plants given to him by his lovely neighbours. I've grown the green shallots in a pot from some I bought at the supermarket, and a good friend who has chickens just gave me a dozen eggs in exchange for some of my Pineapple Skin Syrup. I've used tinned tomatoes, as my cherry tomato plant is bare just now. But it's a great lesson in those of us who CAN make or grow something, anything, to share our surplus with others, in exchange for ingredients we might otherwise have to buy.
You'll need:
Spray oil
1-2 eggs per person
A handful of cherry tomatoes per person OR ½ tin peeled tomatoes per person
1 green capsicum, core removed, cut into slivers
3-4 green shallots, sliced finely
1 heaped teaspoon ground Cumin
1 heaped teaspoon ground Coriander
1-2 chillies, sliced finely OR ½ - 1 teaspoon chilli powder
Seasoning to taste (lemon or lime juice is fantastic if you happen to grow either)
Then just:
Spray a hot pan with oil and heat well. Add the spices, and stir till fragrant.
Add the tomatoes, and crush with a potato masher. Reduce the heat and allow the tomatoes to simmer until softened. In the case of the tinned tomatoes, let the liquid reduce by about half.
Add the capsicum and shallots, and stir, simmering for another minute or two to soften the capsicum.
Push the tomato mixture around in the pan to make several hollows for your eggs. Crack an egg into each hollow, and cover the pan with a tight fitting lid.
Allow to steam until the eggs are cooked to your liking.
Serve with warm tortillas, and/or salad, with a wedge of lime or lemon on the side, and fresh herbs of any kind sprinkled on top if you wish.
I've also made this dish in the oven, by simply combining the ingredients for the tomato base in a casserole dish and microwaving it to bring it up to heat. I'd then let it cook for about fifteen minutes in a moderate oven, before cracking the eggs into hollows, covering with foil and baking for ten to fifteen minutes.
Lastly, done in individual ramekins, this makes a really lovely lunch, brunch or dinner for the family and for guests.
Other additions that really elevate this to a great meal, are sliced sausage (chorizo is particularly yummy), steamed baby potatoes, slivers of ham or bacon, chunks of tuna or salmon, or topped with grated cheese that's been allowed to melt for a few minutes. Crumbled feta or Persian feta is our favourite.
Great meals don't have to be expensive J