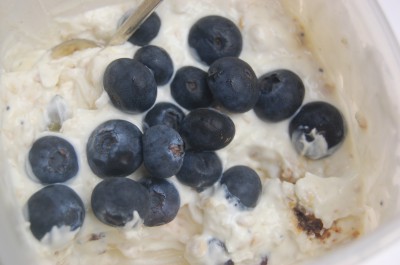 This tastes so decadent, it's almost like having dessert for breakfast.
I make my Bircher up every night as I'm preparing dinner. I have a square cube shaped plastic container with a lid that's my favourite 'feels like a bought treat' breakfast container, and it all goes in there and rests overnight in the fridge, so that it's lusciously creamy in the morning.
For one serve you need:
3 tablespoons natural muesli. I make my own, recipe here....
http://www.simplesavings.com.au/fora/3127904/#3130174
2 tablespoons apple juice. I buy a really good biodynamic organic Cloudy Apple juice and hide it at the back of the fridge so the troops can't find it. I only use it for this and to have a small glass to wash down the obligatory half a handful of vitamin supplements necessary at my age, and it lasts me at least a week.
2 heaped tablespoons Greek yoghurt. You can use any yoghurt, but to get this thick, creamy, dessert like texture, Greek is the best.
A small handful of fruit such as blueberries, sliced strawberries, passionfruit, pawpaw, banana or anything else that takes your fancy. My daughter likes to stir a mashed banana through hers.
Then you just:
Put the muesli, apple juice and yoghurt into the container. Mix well and leave overnight to soften.
In the morning, add your fresh fruit and enjoy. That's it.
I find this a lot less hassle than the more traditional Bircher with the grated apple, and really deliciously healthy and quick in the morning.
Better still, it's one container and one spoon, straight into the dishwasher, or swished around with some hot water and Sunlight soap and I'm done.
It's a breakfast to look forward to, especially if like me, you're so busy getting everyone else out the door in the morning, that you forget to eat!