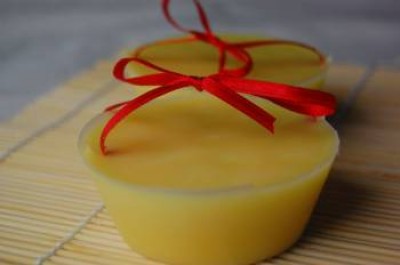 Lotion bars are just a lovely and rather more portable way, of applying body moisturiser. They are similar in texture and feel to a cake of soap, and like soap, you run them over your limbs to dispense the lovely oils. The warmth of your skin does the rest and voila! Moisture, fragrance and sheen, all in one!
These truly are lush, unlike that overperfumed purveyor of body products, where some of us just get woozy. However, thanks to places like that particular store, these little cuties are somewhat more trendy and desirable than they may have otherwise been. But oh my. The price of these for something so simple is crazy!
This is one I made with my Macadamia Oil from Ye Olde Shoppe and just two other ingredients. I added essential and fragranced oil to scent mine, but they're divine unscented as well, should that be your preference.
I also like to add this little ribbon handle to mine. It allows you to slip a hand or a couple of fingers beneath the bow, to use as grip to apply the body butter. It looks pretty for gift giving as well, and makes the Lotion Bar look less like a bar of soap.
So here's what you need to make two little lotion bars. Multiply quantities appropriately for more lovely bars.
1/4 cup Macadamia Oil
1/4 cup Cocoa butter pellets
1/4 cup Beeswax pellets
2-3 drops per bar of your desired fragrance
A toothpick
I used silicone muffin pans to shape and mould my bars, but as for soap making, you can use just about anything. Larger chocolate moulds, patty pans, or cake tins are all a good idea, as are empty milk cartons (cleaned of course), ramekins, and those little Bento Box style sushi moulds. Sit those on your bench, cleaned and ready to be filled.
Cut some lengths of ribbon, lace or even kitchen string if you like a really organic look. These need to be long enough to sit in the base of your mould, with excess strands long enough to tie into a bow. Longer is better, as you can always trim it to look pretty, but you can't remove it and add more once the lotion bar has hardened.
You'll also need to set up a double boiler arrangement on your stove top. That's just a pot of simmering water, with a bowl large enough on top of it, for the bowl to sit over the simmering water, without actually touching the water.
Add your Macadamia Oil, Cocoa Butter, and Beeswax Pellets to the bowl and sit it over the water in the pot. Stir this with a spoon until it melts. This should take no more than a few minutes.
As soon as it's melted, divide it between your moulds. Reseat the ribbon to anchor it into the desired position if you need to. A little of the lotion liquid should anchor it to the edges of your mould very effectively as it will harden within seconds.
Before the lotion starts to cool and harden, add a drop or two of your fragrant or essential oils to each bar. I used two drops of Lemon essential oil and two drops of Vanilla fragrance oil and mine smell like a lemon cake...truly delish! Give it a stir with your toothpick to distribute the fragrance evenly.
Leave to cool and harden undisturbed, and when they've gone milky looking, pop them into the fridge. Chilling them just makes them easier to release from your mould.
After about 15 minutes, remove your lotion bars from the fridge and ease them from their moulds. Tie the tails of ribbon into a neat bow, and you're done!
These cost less than $2 each to make and make the most gorgeous gift. Your friends will think you've spent more than that on them, for certain!
Enjoy!
NOTE: Check online for bargain priced Beeswax and Cocoa Butter pellets. I've had mine for ages and made so many products from one small amount, it's incredible.