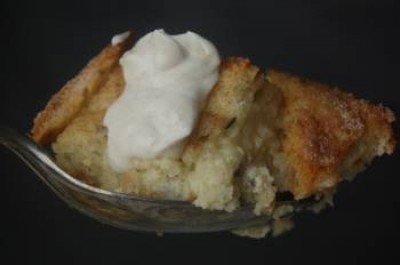 We're trying to go light over the Festive Season and School Holidays. Lord knows, we ain't light just now. How is it that every time I blink, another kilogram of unattractive flesh has attached itself to my once slender limbs?
This festive season, instead of roast beast or bird with lashings of stuffing and dollops of rich gravy, it'll be Poached Chicken Breasts perched upon Cranberry and Wild Rice Stuffing. No roast potatoes here, it'll be the Polenta Chips I saw Piglet 'n' Pooh post in the forum. And definitely no Plum Pudd or Ice Cream Bombe.
We'll be having this instead.
Cereal Milk French Toast with Cinnamon Labna
Enough for 6 delicate serves or 3 greedy ones
Start preparing this recipe an hour or two before you need it. There are 3 components to this yummy dessert or breakfast. It's a little like lasagna. Not difficult at all, but doing a bit ahead, makes the assembly and serving, easier on the day.You can even start 48 hours ahead, bake it the day before you need it, and serve it cold. It'll be just as scrumptious.
The ingredients are:
For the Cinnamon Labna:
1 cup thick Greek style yoghurt, drained if desired, and sweetened with cinnamon sugar. Cinnamon sugar is easily prepared by stirring a teaspoon of cinnamon into a cup of caster sugar.
For the Cereal milk:
2 cups Cornflakes soaked overnight in 3 cups milk (skim for me!). Leave this in the refrigerator overnight, then drain and reserve the milk by straining through a sieve, pressing the cereal to extract as much liquid and flavour as possible. Discard the cereal. The dog or chickens will love you. Test for desired sweetness and add a little sugar or preferred sweetener if you wish.
To assemble and bake the pudd:
12 slices of Bread (I used seeded Gluten Free bread)
2 eggs, beaten
1-2 dessertspoons cinnamon sugar for sprinkling
Cut the 12 slices of bread into neat quartered triangles, and arrange them, points up in a greased loaf pan. Beat the eggs with the strained cereal milk, and pour it over the bread. Allow to sit for at least one hour in the refrigerator to allow the cereal milk to permeate the bread.
Fifteen minutes before you want to bake your French Toast, preheat the oven to 180C, sprinkle with the cinnamon sugar, then pop it in to bake for 35-45 minutes.
When the points of the bread are golden and crusty and the whole shebang is firm to the touch, it's ready.
Remove it from the oven, and either cool it slightly before refrigerating, or serve it immediately with the Cinnamon Labna spooned on top, melting enticingly down the sides.
A happy and healthy 2013 to you all!