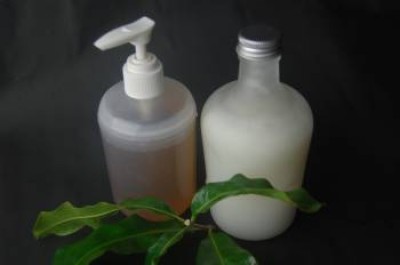 The Macadamia Oil Shampoo and Conditioning Rinse Concentrate I've made ...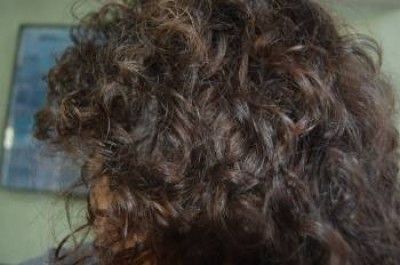 My usually dry, lacklustre hair, without products of any kind to assist curl, and in daylight, without any enhancement, after washing with the shampoo, finishing with the conditioning rinse, and allowing it to dry naturally. It's silky soft, curly without gel or mousse, and my scalp is not dry and itchy as it so often is with commercial products.
This is just one of the ways I've been experimenting with my beautiful Macadamia Oil from the Ye Olde Shoppe.
I started off just decanting some and using it as a night treatment for my skin, but knew there had to be other great ways to use it's yummily goodness to save money and keep the family looking spiffy.
So far, I've made shampoo and conditioner, soap, cuticle oil, lotion bars and whipped body butter. Even better, I haven't even used a tenth of my one litre tin of macadamia oil making all of those lovely things.
I'll be sharing all of the recipes for these goodies over the next couple of weeks, but first up is the shampoo and conditioning rinse concentrate.
Let it be said that I am very very fussy on hair care. DD and I both have fine curly hair that ends up frizzy at the slightest hint of humidity. We both use a protein rich shampoo and conditioner, and some sort of gel or mousse to tame our curls on a daily basis. Even at the budget price point, these products can cost up to $35 a month, especially at the rate at which my 13 year old uses conditioner....eeek!
So I'm always keen to find an equivalent product to cut our expenses in this department.
I've also been down the 'washing my hair with soap and rinsing with vinegar' path as per the forum thread, and found that whilst it worked in the short term, longer term my dryish hair needed more nourishment.
I think this is a good middle ground. These products still use the principle of a mild soap based wash solution, with the addition of some nourishing ingredients, and a mild acidic rinse to tame flyaways and close the cuticle on the shaft of the hair for smoothness. The flat beer idea has also been around for decades, but I've elevated it to useable and not smelling like a brewery, by diluting it significantly with the vinegar rinse and adding using it's rich protein to my advantage.
You'll need a recycled jar or bottle for the shampoo and a second jar for the conditioning rinse concentrate. You'll also need a plastic jug or bottle in which to mix your conditioner for use.
Here are the instructions:
Shampoo Base:
Makes 1.2 litres
1 litre rainwater or spring water or tap water that's been left to stand overnight
1 2/3 cups soap flakes (I used Lux soap flakes, available in the cleaning aisle of the supermarket, but if you make your own soap, grate some and that'll be perfect. Otherwise, choose a mild unscented soap and grate that.)
Put the water and soap flakes into a small saucepan, and heat gently over a medium hotplate. Stir constantly until the soap flakes disintegrate, and the solution looks milky. It will be thin now, but will thicken significantly with cooling. Put it aside to cool a little.
This is your raw shampoo, and you could, in fact, use it as is. But I wanted to improve mine.
Ingredients for customising your shampoo:
You can use any or all of these, or make up your own blend.
Cosmetic grade macadamia oil
100% pure Aloe Vera Gel
100% Vitamin E oil
Essential oils
Beer
Why did I choose these ingredients?
My ingredients are from a stash following many years of concocting skin products, so after a little research I chose to add the those listed above. But remember I had them all on hand. These additional ingredients are readily available at Pharmacies or on line for under $10 each, and will yield you many, many batches of shampoo, conditioner, facial lotions and serums, body butters and moisturisers.
The macadamia oil is for moisturising
The aloe vera gel is repairing and adds proteins
The vitamin E does the same and helps smooth the hair
The beer has different proteins again, that coat the shaft of the hair and protect it from damage and adds gloss and shine
My own customised recipe looked like this:
1.2 litres (one batch) shampoo base
2 tablespoons macadamia oil
1 dessertspoon Aloe Vera gel
10 drops Vitamin E oil or 2 Vitamin E capsules pierced and drained into the shampoo base
10 drops rose oil (3% oil in a jojoba base)
Give it all a good stir, decant some into a bottle or jar for immediate use, and the rest into a screw top jar or container, for storage.
Stir your shampoo with a spatula, to loosen it up for use. This lathers beautifully and used in conjunction with the conditioning rinse, leaves your hair shiny and soft.
Next is your Conditioning Rinse Concentrate.
This goes into a recycled screw top jar, and is mixed at the rate of up to three tablespoons of concentrate, to a cup of water, which you then pour over your hair as a final rinse. You do NOT rinse this out. It acts as a conditioner, smoother and styler, all in one. If you find, as I have, that the rinse is making your hair too soft to style, or even a little lank, decrease the amount of concentrate in your rinse.
150mls Apple Cider Vinegar
150mls beer of any kind. Pop the top back on and hide it somewhere for future batches of conditioning rinse. I used stout as someone had left a bottle of chocolate stout here two Christmasses ago, and I'd never figured out a use for it other than scones! Some strange logic tells me it'll be great on my brunette hair ;0)
10 mls macadamia oil
Up to 20 drops your preferred oil for scent
Put all the ingredients and shake well. Add three tablespoons to a cup of water and use as a final rinse. Make more concentrate as required. In fact you can make a huge batch and store it in the fridge if you wish, using it as needed.
You can now leave your hair to dry naturally. Should you experience any flyaways or frizzies, a coin sized amount of the concentrate rubbed between your palms and smoothed over your hair will do a great job of taming them.
I'm not saying this is going to replace your Salon brand, but as a beautiful family shampoo and conditioning rinse that's frugal and fun, and leaves your hair enviably soft and manageable, it's pretty darned good.
I calculate the price of this formula at mere cents for an entire batch, leaving your hard earned dollars in your pocket to do some real good elsewhere.
Have fun and enjoy!