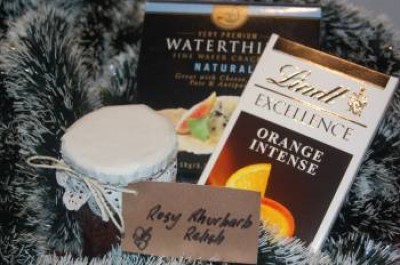 The trouble with being a serial hamper giver, is that you have to keep coming up with the goods. You don't want the family to storm your doorstep in protest at being given the same stuff they didn't consume last year. Nor on the other hand, do you want to find them shuffling bottles and jars, bereft of labels, around their refrigerator and pantry in 2018, because they never did work out how to eat, drink or re-gift something you've lovingly prepared, nay, slaved over, one November a few yonks back.
I call it Hamper Hatred. It's rampant in some families where someone once doled out jam drops with green centres of undetermined origin, in the interests of Christmas colour theming, or where foodie gifts are seen as a metaphor for being a cheapskate.
Really there are a few magic steps in producing gratitude worthy hampers and here they are:
1. Decide whether you're going for quality or quantity. This may depend upon who the hamper is going to. If it's a single friend, then perhaps one significantly beautiful thing is best. If it's for a family of six, then perhaps they'd value lots of little treats over a single luxury item.
2. Package your item appropriately. If you're giving a single luxury item, then package it memorably. If it's for a family, then a more rustic approach and recycled containers is fine. Source containers online or in thrift shops and dollar stores. Aim for a signature that claims the item as something you've produced. For me it's kitchen string and salt dough tags for a rustic effect for the blokes, and double satin ribbon and Victoriana images for a more luxurious effect for the ladies. I also prefer to use tulle or calico over gift wrap. It's more sympathetic to odd shapes, and is reusable.
3. Make sure it's something the recipient will use, rave about, and badger you senseless for in years to come. There's no sense in gifting coffee if they're a tea drinker, or presuming they relish 'relish', if they love jam. If the food is something a little different, include instructions on how it's to be used too.
4. Accept that hampers and kitchen gifts still cost time, effort and money to produce. Unless you have a vegie patch and fruit orchard groaning with excess produce begging to be used, you're still going to be forking out for ingredients. You also need storage space in a cool, dark place in the house for most things, and some will even need refrigerating or freezing. So be certain you have the right storage space and conditions before you even start.
Presuming that's all fine and dandy, we're ready to start producing Happy Hampers!
So, around about now, I check out what produce is in season and what ingredients are readily available, and do up my selection list, emailing it to friends and family. I give them a deadline for delivering me their choices, or warn them to fear that I will make the choices for them. Not wanting to be the person that ends up with 10 jars of stuff the rest of the crew didn't want, they all get back to me pretty quick smart!
This year my selection includes old favourites like Tomato Relish, homemade Limoncello, and Raw Chocolate Truffles, with the addition of Pineau (a sort of vanilla scented liqueur), Rhubarb-Ginger-Walnut Chutney, Sweet Chilli Sauce, Strawberry and Vanilla Jam, Pear Paste, Panforte, gourmet tea, coffee and salt blends, and slivers of crystallised ginger in bitter coconut chocolate bark.
Now that might look like serious nervous breakdown material to you. Actually, now that I take a good long hard look at it, you may well be right! But in all seriousness, the trick is to get started now. Actually I tell a lie... the trick is to have got started in January, but alas, having missed that particular boat, now is as good as it's gonna get.
So without further ado, here is my recipe for Rhubarb-Ginger-Walnut Chutney. It's as prettily pink as a blushing bride and looks gorgeous alongside some Pistachio and Craisin White Chocolate Bark, Peppermint Tea Cookies with Candy Cane Icing, and a nice bottle of Sav Blanc (just saying... you know). I'll be adding instructions to serve the chutney with Pork, Chicken or Ham just so my hard work doesn't go to waste.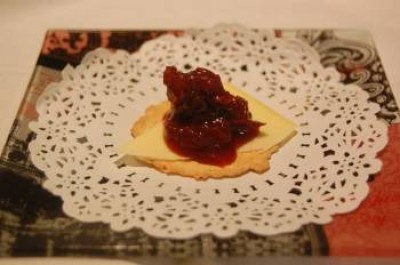 Pink and Pretty Rhubarb-Ginger-Walnut Chutney
Yields around 4 small jars of deliciousness
Ingredients:
1 head of rhubarb (about 8 stalks)
5cm piece raw, fresh ginger
1 1/2 cups brown sugar
1 cup vinegar
Squeeze of lemon juice
1 cinnamon stick
2 Tbsp dried fruit
1/2 cup walnuts, chopped
Pinch of salt
Equipment:
1 medium saucepan
Measuring cups
Sharp knife
Wooden spoon
4 cleaned and sterilised, recycled jars with pop-top lids, about 200-300mls capacity
Method:
Cut your rhubarb into 2.5cm pieces. Peel and finely chop your piece of ginger. Combine your sugar, lemon juice and vinegar in your medium saucepan and stir over a low heat until the sugar dissolves.
Add your rhubarb, ginger and cinnamon stick. Turn your hotplate up a little to medium and cook, stirring often until the rhubarb softens. This might take about 15 minutes, so keep a close eye on it.
Add your dried fruit, walnuts and a pinch of salt. Reduce the heat again and allow to simmer slowly, stirring often, for about 15 minutes.
Remove from the hotplate and allow it to cool a little for about five minutes. Spoon carefully in to your sterilised, recycled jars, filling them right to the brim. Seal them firmly, and upend them on the bench so they are standing on their lids. Allow them to cool like this, then stand them up. The little pop top should pop in, indicating that it's now vacuum sealed. If it doesn't, allow to cool further, then lightly press the pop top button flat. If the planets are aligned and you're holding your tongue the right way, the button should now stay flat. If it doesn't, you can wash and sterilise the jar again, and reheat the chutney and try again. No harm done and best to get it right if you're giving it away.
This is such a pretty colour that I almost hesitate to give it to the guys in the family lest they think it effeminate. But since none of the blokes have asked me when I'm making a more butch version yet, I reckon I'm okay!