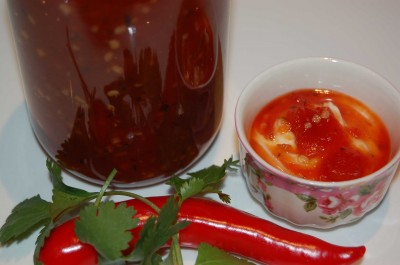 Hello all...yes I know I posted this one last week, but I wanted to add it to my SS blog and include some new ways to use your Home Made Sweet Chilli Sauce, so skip to the end of this post if you've already seen the recipe :)
Sauces are a new challenge in our household as so many commercial brands are not gluten free. Buying something as simple as Sweet Chilli Sauce or Barbecue or Tomato Sauce requires standing in the aisle at the supermarket, scouring the lists of ingredients to make sure we don't inadvertently purchase something that gives poor DD hives and a belly ache!
This is one of the ones I'd been meaning to make for ages, and I'm really tickled with the result. It's a gorgeous rosy red, has a delectable mild flavour, and will be a fab addition to all those Christmas Hampers I start preparing for around this time of the year.
Sweet Chilli Sauce
Makes two 500gm jars with enough for a smaller jar leftover.
Equipment required:
Medium Saucepan
2-3 recycled and sterilised glass jars with the pop-in button type lids (for storage and gift giving only)
Spoon
Measuring cup
Large jug with pouring spout
Ingredients:
6 large red chillies, snipped into slices with kitchen scissors
3 cups sugar
2 cups white vinegar
1 800gm tin of Peeled and Diced tomatoes or equivalent fresh (if using fresh, you'll need to simmer this for longer)
1 tablespoon minced ginger or grated fresh ginger
1 level dessertspoon dried garlic granules or 4 fresh garlic cloves, peeled and crushed
1 level teaspoon salt
1 tablespoon dried coriander leaves (NOT ground coriander) or use several leaves of fresh coriander
1 Cardomom seed, left whole
Measure everything in to your medium saucepan and bring to a slow boil on a hotplate heated to HIGH.
Turn your hotplate down to medium low, and allow your Sweet Chilli Sauce to simmer for about 45 minutes, until the liquid reduces by about one third.
Pour the sauce into your large jug and use the jug to pour it into your jars. Fill the jars as close to the rim as possible.
Seal the jars firmly and invert on to the sink or bench. Allow to sit upside down to cool, and return to the upright position after about an hour. Press gently on the 'pop-up' button in the middle of the metal lid. If it isn't already popped 'in', it should do so with minimal pressure. This means it is now sealed and can be stored. If it won't pop in, then use that batch first, storing it in the refrigerator.
This should keep well at least until Christmas, if it lasts that long!
We love Sweet Chilli Sauce and pour it over a little dish of Japanese or Whole Egg Mayonnaise for an easy dip for rice crackers and vegetable sticks, poured over a wheel of Brie and microwaved, plopped into a bowl of mashed avocado for an easy guacamole, or tossed with our favourite stir fry.
Try making your own. It's so simple and so rewarding to look at those rosy jars lined up in the refrigerator or pantry.
Delishamondo, as my daughter says!
Of course, there's no point in making your own yumbo Sweet Chilli Sauce if it just sits there gathering dust in between Potato Wedge dipping sessions.
So here's a few more ways to use it:
Pour over chicken drumsticks and marinade for several hours or overnight before baking at 180C for 50-60 minutes for a sticky sweet chicken dinner. Serve with coriander and lime scented rice and some fresh veg.
Drizzle over flat bread, cover with grated or sliced cheese and fold over before toasting in a sandwich press, or dry frying in a hot non-stick pan. Alternatively grill under a hot grill until bubbly and golden.
Mash with an avocado and some cream cheese for a quick guacamole.
Mix equal amounts olive oil, vinegar and sweet chilli for a yummy salad dressing.
Toss roasted potatoes with a couple of tablespoons of Sweet Chilli Sauce in the final 10 minutes of baking for a new take on a family favourite.
Use as a stir fry sauce.
Use as a sauce for pizzas.
Stir through softened Mango Sorbet (home made or bought) and re-freeze for a super different dessert. Don't laugh till you've tried it...it's oddly and strangely addictive!
Tie a ribbon around the neck of the bottle and label it and give it away in hampers of home made goodies for your nearest and dearest.
Enjoy!