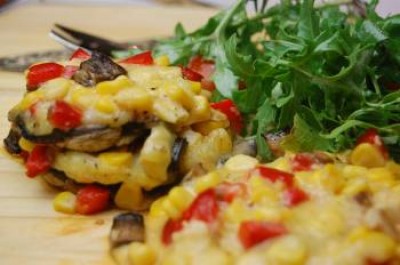 It took me ages to convert my husband into a mushroom lover. When we first met, he wouldn't touch them, but I later discovered that was because someone had tried to feed him those nasty tinned things. I sympathised as I had suffered the same trauma at the hands of a well-meaning rellie when I was young.
So, I served him snow white button mushrooms, sautéed lightly in butter with a sprinkle of multi-coloured peppercorns, alongside his steak or sausages. I wooed him with steaming mushroom soup, garnished with toasted flaked almonds and finished with a swirl of home-made yoghurt. I then sealed the deal by serving these stuffed and baked field mushrooms - a dish made for the carnivore of the family!
These days, he actually requests mushrooms. No, really. Most days he'd have a baked field mushroom over a steak. Well, sometimes, anyway. Okay, I might have exaggerated. He will eat them if presented with them! And usually only after I break the bad news to him, that there is no steak, only mushrooms. The main thing is... he eats mushrooms! See if you can't convert your lot to being mushroom lovers too.
Stuffed and Baked Field Mushrooms (serves 6)
Equipment:
Baking tray lined with baking paper
Sharp knife
Small bowl
Spoon
Ingredients:
1-2 large field mushrooms per person
1 cup grated cheese
1/2 cup crumbled feta (optional)
1/2 cup diced capsicum
1 corn cob
1 egg, beaten
How to:
Cut the kernels from your corn cob with a sharp knife and add to your small bowl.
Preheat your oven to 180C. Line up your mushrooms on a lined baking tray. Trim off the stalks, chop and combine with the corn kernels, and all the other ingredients to make your filling. Season your filling with a bit of pepper if you like it, or chilli seeds or herbs and spices of any kind. If the family have a favourite, toss that in for good measure.
Divide your filling equally between your prepared field mushrooms, piling it high as it will all collapse and look a bit sad if you're not generous with it. If you're going to make the family love it, you've got to have heaps of filling bubbling away when it's served!
Pop into the oven and bake until golden and crusty, about 20-30 minutes. Serve with some fresh salad and maybe a corn cob drizzled with a little melted butter. My lot would also suggest "add one steak or a couple of snags", but I'm ignoring them.