I've long been a believer in the fact that a calm parent=calm home=calm children.
Fortunately for me, I have a husband who feels the same.
Not for us a diet of reality TV and The Simpsons.
Ever since our daughter, now 10 going on 11, was small, she's listened to music, played games with us, held conversations about everything from family dynamics to the Hubble Telescope, and been a constantly questioning and inquisitive individual.
Not surprisingly, she does well at school and has a host of extra curricular activities to keep that active mind and body occupied.
One of the things we love in the evenings is candles and quiet music.
Yesterday I make a simple decoupage candle jar....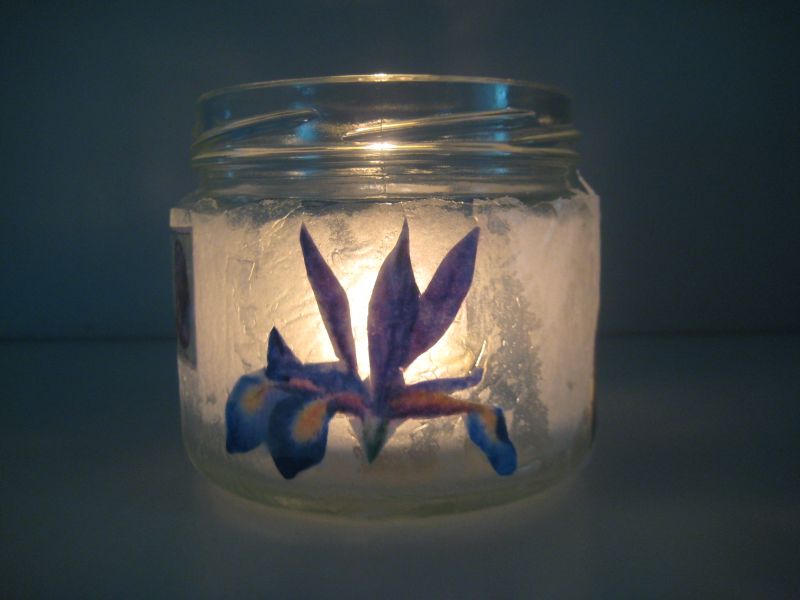 This is just a recycled salsa jar, greatly prettied up with a cut out of an iris from a vintage botanical print I found online. All I did was apply the cutouts with decoupage glue, then covered them and the rest of the jar with torn off pieces of white tissue paper to give the opaque effect. I covered the lot with another quickly sponged coat of the glue and left it for 24 hours.
As you can see, despite being far from perfect, it makes a very pretty and effective tealight or votive candle holder.
Very calming. And on a gloomy day like today, just what's needed to lift the spirits.