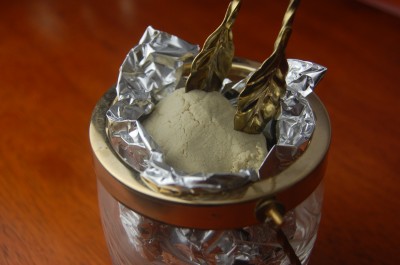 Before I became a Simple Saver, I had a terrible weakness for beauty products. If I ever felt low, I'd haunt the pharmacy, health food store or department store and stock up on creams, lotions and potions redolent of lavender, tea tree, lemon, mint and rose. The more like Nannas garden the ingredients were, the more I loved them. Not for me the Clarins, Shiseido or Estee Lauder...although Clinique got a look in for several years. It was anything labelled 'organic' or 'nature' or 'wholistic' that usually caught my eye. These were my favourite indulgences.
Over the years since joining Simple Savings, I've mended my ways, and taught myself to concoct my own potions and lotions. This is surprisingly easy now that labelling laws give an insight into the ingredients used in my favourites. Quite often it's just a matter of stumbling upon the right combination of ingredients and fragrance at home, and you have an equally beautiful product for a fraction of the price.
Given that my penchants for products leans towards the more natural, it was inevitable that the Lush brand became a firm favourite. But of course, as a good Simple Saver, I knew there had to be a better way.
Here's my version of one of the Lush chains most popular facial cleansers, the Angels on Bare Skin Facial Scrub.
As the name suggests, the texture is very much like a cookie dough. You take a pearl sized amount of the 'dough', and mix to a paste in the palm of your hand, before applying to the face and massaging well. This will leave your face as soft as .... a Cherubs Cheek!
Soft-as-a-Cherubs-Cheek Cookie Dough Face Scrub
All ingredients are readily available at supermarkets or health food stores. This amount makes a ball of dough somewhere between the size of a golf ball and a tennis ball.
4 tablespoons French White Clay powder (healing and calming)
4 tablespoons Ground Rice (also known as Rice Flour) (gentle exfoliating)
2 tablespoons Milk Powder (moisturising and soothing)
1 teaspoon Citric Acid (preservative and antioxidant)
2 teaspoons Vitamin E oil (antioxidant)
2 tablespoons strong Green Tea (antioxidant)...make the tea with one teabag and about an eighth of a cup of boiling water
2 teaspoons Salt (preservative and exfoliant)
3 tablespoons Glycerine (moisturising)
Several drops essential oils of choice (I used 6 drops each of Lemon, Peppermint and Lavender)
Botanicals such as unsprayed dried rose petals or lavender buds, crumbled (optional)
Mix all ingredients in a small bowl, using a teaspoon to form into a dough. Knead with scrupulously clean hands until well combined. Seal in foil, in a sealed container. Use a spoon, tweezers or small tongs to remove tiny pearl sized amounts to mix with a small amount of water to a paste, and massage onto your dampened face for about 30 seconds. Rinse well.
Follow with your favourite moisturiser or my Facial Serum :)
Store sealed in foil and use within one month. Refrigerating it will prolong it's shelf life.
A blissful under -50c indulgence if ever there was one!