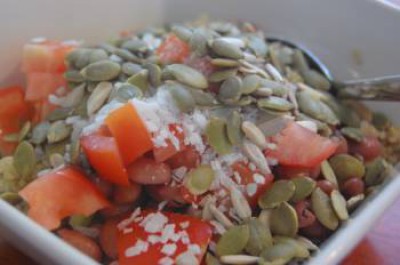 We're in love with Quinoa.
We had a brief flirtation with it a few years ago, but I really wasn't using it to it's best advantage back then, and we put it in the too hard basket.
A renewed interest in gluten free grains led me to put together this salad for dinner last night.
I wanted something that could be served meat free as a meal, or as a side for the carnivores in the family, and this got a big thumbs up.
I had it plain with some chopped toasted almonds on top, my 13 year old daughter had it with a squeeze of lime juice as dressing and some avocado slivers for decoration. She scooped the salad onto baby cos lettuce leaves and ate it like tapas, proclaiming it yum like that, and the man of the house had thinly sliced pan fried kabana to garnish his. We all agreed that no matter the variation, this one's a keeper.
For four serves and enough Quinoa leftover for another salad, you'll need:
3/4 cup Quinoa
1 2/3 cups water
Pinch salt
Plus:
1 tin cooked beans such as red kidney, cannelli, borlotti, drained and rinsed until they stop foaming (I actually buy dried beans when I can, and presoak and precook them ahead before freezing them)
1 stick celery, thinly sliced
1/4 small onion, peeled and grated
1 small clove garlic, peeled and minced
1/2 tomato, diced
1 tablespoon pumpkin seeds
1 tablespoon sunflower seeds
1 tablespoon shredded coconut
3 tablespoons of Olive Oil
Then just:
Add the quinoa and water to a large saucepan, bring it all to the boil, and seal it with a close fitting lid, before turning the hotplate OFF. Leave the pan on the stored heat of the cooling hotplate. Check the quinoa after 20 minutes and fluff with a fork. It should be perfectly cooked. If there is liquid remaining or the quinoa is not soft and fluffy, reheat it gently until steaming and replace the lid before allowing it to sit for another five minutes.
Once cooked, spread the quinoa onto a large platter and allow it to cool to room temperature.
Once it's cooled, add the minced garlic, grated onion, and the olive oil, tossing it well to infuse the quinoa with the flavour of the garlic and onion. Add the other ingredients and toss if you wish. We prefer to put the quinoa in the bottom of our bowls, and add as little or as much of the other ingredients as we like, gently tossing it to combine before we eat it.
You can vary this by adding different seeds, nuts and beans. It doesn't need any dressing as the flavours are already so complex and appetising.
This is a brilliant do ahead salad, and one large container done up on a Sunday night, would do for lunches and dinners for a couple of days. It's a great healthy lunch to take in tubs to school or work too, as there is no dressing involved to make it go soggy.
Healthy, delicious and inexpensive to boot :)