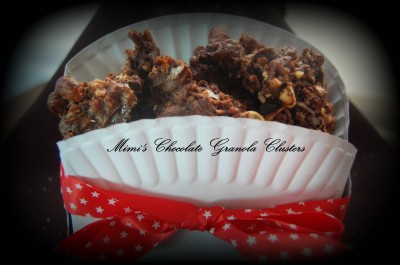 I had muesli. I had chocolate. I needed some gifts.
What's a girl to do?
Chocolate Granola Clusters were the answer :)
I'd probably baulk at calling these 'breakfast', but if you want to douse them in milk and enjoy them like Coco Pops, I won't be there to stop you ;-)
Personally, these are being gifted, packaged as you see here, as Random Acts of Christmas Kindness to my disabled DS's neighbours today. Some of them could do with some kindness, Christmas or otherwise.
This is a REALLY flexible recipe, so substitute to your hearts content.
You'll need:
2-3 cups muesli (I used gluten free)
1/2 cup whole nuts (almonds here, coconut flaked or dessicated is fine too)
1/2 cup oil (coconut oil in our case but any will do)
1 packet of choc chips (or as many as you have or leave them out)
1/2 cup white chocolate melts (optional...I just had them to use)
1/2 cup honey (or golden syrup or rice malt syrup or maple syrup)
2 tablespoons cocoa powder
1 heaped teaspoon Cinnamon (optional)
1 heaped teaspoon Ground Ginger (optional)
1 egg white, whipped till frothy
Then just:
Preheat your oven to 160C fan forced, or 175C without a fan forced oven.
Line a cookie tray with non stick baking paper.
Tip the muesli, nuts, choc chips, and choc melts onto the lined tray.
Melt the oil if solid, adding the white chocolate melts if using them, the sweetener whether it's honey or whatever, the cocoa powder and the spices. I did mine in the microwave in 30 second bursts at 50% power, stirring well between bursts. As soon as the melts, melt, you're good to go. If you're not using them, you just want the solid oil melted and the other ingredients stirred through.
Pour this over the dry ingredients on the tray. Using clean hands, toss gently, ensuring that the chocolate mixture thoroughly coats the dry ingredients.
Add the frothy egg white and toss again, very gently so that the egg white coats everything.
Spread the mixture evenly over your tray and bake for 45 minutes. If you want your Granola finer and more 'muesli' like, then stir it halfway through, otherwise just leave it to crisp and go delicious :)
Remove from the oven after 45 minutes, and allow the granola to cool.
Break it up into clusters with your hands, and package as desired for gifting.
You can use dried fruit instead of nuts or as well as. You can leave out the cocoa and add more white chocolate melts and have White Granola Clusters. You could add ginger or Craisins or M&Ms. Whatever takes your fancy. I just used odds and ends of things I already had. I guess those Choc Chip Fudge Cookies will have to wait another day. I used the choc chips in my Granola making frenzy. That's life!
Enjoy!
P.S. Thanks to Pearls & Lace for posting the idea for the packaging on the 'Gift making for the creatively impaired' discussion in the forum. Awesomely simple and effective!
Find it here.