Friday is a great day to reflect upon the week we've had.
I find that if I list all that I've done to save money, and how much I've saved, it helps me to remain inspired and motivated.
So each Friday, I'm going to post my list here, and it would help me if some of you would join in with your own lists.
The other great thing is the things that we find most simple and obvious in our routines and lives, are often not obvious in other peoples lives, so it's a great way to share new ideas.
So here's my first list...
I keep hearing from friends in other states about their free harvests of stone fruit. Unfortunately, no free produce here, but I did have a big saving by defrosting my refrigerator. I know that sounds odd, but we were told a year ago that we would have to buy a new fridge as ours was on it's last legs. Well here we are, it's still going, and all I have to do is defrost it about every 8 weeks, and it keeps kickin' along! It's great discipline too as it forces me to deal with all those unidentifiable containers with murky contents, most of which turn out to be something really yummy like my home made refried beans or pumpkin soup, which we then get to enjoy totally unexpectedly. Savings on new fridge purchase of $2000 over the last year, plus savings of $20 on unexpected meal findings.
I've made McDonalds style fish burgers with home battered fish, which meant that one single fish fillet fed three of us generously. Savings of $20 on takeaway.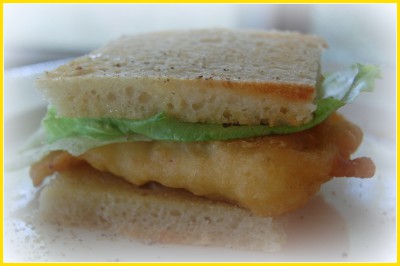 Really easy....
You need:
1 large fillet of white fish, cut into three
1/2 cup flour
1 egg
Sufficient water to make a thick batter....1/4-3/4 cup
Rolls halved, or 2 slices bread per person
1-2 large iceberg lettuce leaves
Mayonnaise or Tartare sauce
1 cup vegetable, canola, or sunflower oil
Paper towels
Then all you do is:
Toast or grill your rolls or bread if you wish. I used Gluten Free bread, so I toasted ours and trimmed the crusts just to make it look and taste more authentic. Spread the rolls or butter with mayo or tartare sauce, and set them out on plates.
Trim or fold the lettuce so it fits the rolls or bread slices neatly. Set them aside.
Mix the flour, egg, and water, and mix to a gluggy batter. You want it about the consistency of thick soup. Lumps are fine. Season it with salt and pepper.
Put the oil into a medium saucepan and allow it to heat to medium hot. I found that my fish fillets took a while to cook all the way through, so don't make it smoking hot. Bring it up to heat, then turn it down to about one third full power.
Carefully dip the fish into the batter, coating well on both sides, and lower gently into the hot oil. Don't overcrowd the pan. I fitted all three small pieces into my pan, but any more would have lowered the temperature of the oil and made the fish batter greasy.
Turn the fish regularly to ensure it cooks evenly. Give it 3-6 minutes each side depending upon how thick the fillets are. The first time you do this, you might have to sacrifice one and cut into it to check for done-ness, but after that you'll get a bit of a feel for how long your chosen fish fillets take.
Drain the fillets well on paper towels and season with salt and pepper.
To each roll or slice of bread, add a fish fillet and top with a lettuce leaf. You could add cheese slices too if you wanted.
Serve immediately.
We had ours with oven baked potato gems and my daughter had a home made smoothie. Very yummy, and although it sounds fiddly, it took no more than 15 minutes. It would have taken us longer to drive to McDonalds and back!
I made my own Greek yoghurt which provides us with breakfasts and desserts for several days for just pennies. Savings of $9 on DH's favourite bought Greek style yoghurt.
I planted some coriander, parsley, basil and sage. Savings of up to $70 on buying herbs for the next three months.
I made some gluten free gnocchi which we ate with fried sage leaves and brown butter for dinner last night. I served it with exotic multi coloured tomatoes on the side and it looked fabulous and tasted even better. Savings on a bistro meal at Coffee Club or the local sporting club of around $60. It's ridiculous what they charge for a simple pasta style meal!
So overall, a very productive week, and potential savings of around $100 plus the ongoing saving of not having to purchase a new fridge at $2000.
I hope you all have some ideas to share too :)