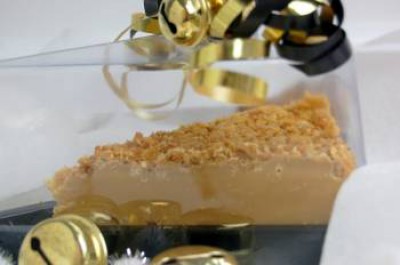 I'm amazed at how a simple twist on presentation makes a fairly ordinary treat, into something worthy of gift giving.
I visited a packaging store the other day and found these cute cake wedges for just $8 for 50. I scurried home with them, knowing I'd use them somehow, but it wasn't until my daughter and I made some fudge in a round cake tin, because our square slice tin was full of coconut ice, that it came to me.
This makes a great gift for anyone, and dressed up with a paper doily in the base and pink and silver ribbons, or a miniature cake decorating reindeer and sled or Christmas tree on top, it becomes more feminine rather than this sophisticated, blokey presentation.
Here's the recipe:
Caramel Maple Fudge Wedges with Anzac Crumble Topping
Makes 8 wedges
1 packet Anzac biscuits or equivalent home made, crushed well
4 tablespoons butter
1 can (395-400gms approx.) condensed milk
1 1/2 cups brown sugar, firmly packed
2 tablespoons Maple syrup or maple syrup flavouring or topping
2/3 cup white chocolate melts
22cm round cake tin, lined with baking paper, leaving an overhanging edge to allow you to lift the fudge out.
Cake Wedges available from packaging suppliers or online.
Ribbon and decorations if you wish.
Then just:
Melt the butter in a medium saucepan over a hotplate heated to medium temperature, and add the brown sugar, maple syrup and condensed milk.
Stir constantly until it boils, then reduce the heat to low and stir continually for ten minutes.
Remove from the stove and quickly add the white chocolate melts, stirring well until it's all smooth.
Immediately tip the mixture in to your lined cake tin, and spread it out evenly. Before it sets, sprinkle the crushed Anzac biscuits all over the surface, pressing down gently with clean hands to embed them into the surface of the fudge.
Chill for an hour or so until firm, then cut in half, then quarters, then eighths with a large sharp knife.
Package in to cake wedges or simply wrap in clear cellophane.
Cute!