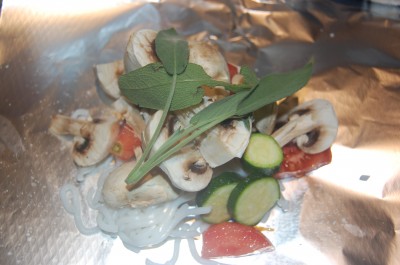 Campfire style cooking....yummmmm...turns this...
...into this.....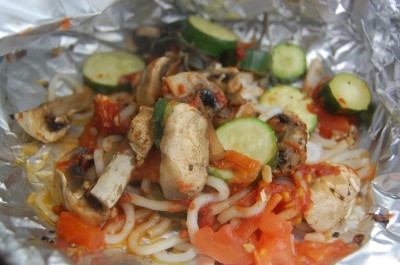 ...and it's so easy, you'll forget that that strange square box in the kitchen is an implement for cooking!
We love this recipe so much. It's quick and easy, super tasty, costs next to nothing and even kids and guests lap up stuff in foil straight out of a campfire, fireplace or oven.
Best of all...no washing up, a great opportunity for conversation, and a saving on your energy bills!
For each serve you need:
2 squares of foil about 30cm x 30 cm
A handful of cooked rice noodles or cooked pasta
2 cups of winter vegetables, diced into large pieces
A drizzle of oil
Salt and pepper to taste
Fresh or dried herbs for flavour
Then you just:
Lay one square of foil per person along your kitchen bench or outdoor table.
To each square, add a handful of cooked noodles or pasta, your desired veges, spices and seasoning and a drizzle of oil.
Lay the second square of foil over the lot, and pull it up a bit in the centre so it forms a sort of pouch effect to trap the steam and infuse your packaged noodles and veg with all that steamy flavour. The crimp the edges all the way around, gathering the bottom sheet of foil into the upper one, and turning over so it looks like a foil pie.
Pop this in a foil baking tray to protect it from the direct heat a little and into your hot coals, fireplace or oven heated to 200C if you lack access to a cozy fire. Let it steam away for between 20 and 35 minutes. Move it around occasionally so the bottom doesn't scorch if it's in the fire.
Gather the troops around with teatowels on laps to protect them from the heat, forks in hand, and distribute your parcels.
Enjoy the silence as everyone slurps and enjoys.