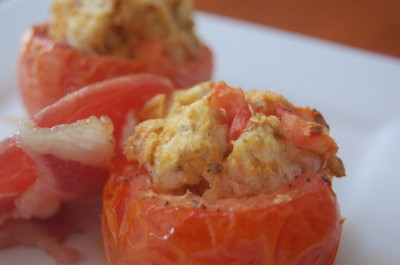 We're having Tomatoes Provencale for dinner tonight.
So healthy, inexpensive and YUMMY!
For each person you need:
1 tomato, cut in half and hollowed out..larger for hungrier folk, smaller for the littlies. Retain the pulp, chopping it up for the filling
1 garlic clove, peeled and cut in half to expose the juicy sides
1 slice of bread, rubbed lightly with the cut garlic clove, then cubed
A jig of olive oil
Something to liven it up if you wish, such as sliced olives, diced bacon, or chopped hard boiled egg...or all three...or none!
1 rasher of bacon or proscuitto and some cooked noodles for each serve. We like Pad Thai noodles as we are all gluten sensitive. Fettucine, spiral noodles or vermicelli would all be great too.
Preheat the oven to 200C.
Line a tray with baking paper.
Place the halved tomatoes on your tray. Season with a tiny bit of salt and pepper, and rub the insides with the used garlic clove halves. This imparts the lightest of garlic flavours, without it overpowering everything.
Mix the bread cubes, chopped tomato pulp, olive oil, and any other ingredients you would like to add.
Pile into the tomato halves.
Bake until the crumbs are crisp and golden.
While they're cooking, pop the bacon rasher or proscuitto onto another tray and pop then in to crisp, and cook your noodles.
Serve these with noodles tossed with herbs and a little extra virgin olive oil, and the piece of proscuitto or bacon, crisped in the oven with the tomatoes, and crumbled...yum, yum!