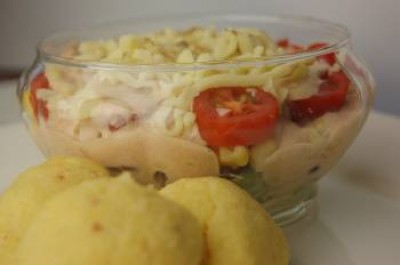 If you haven't tried layered salads, you're missing a real treat.
They're one of the most wonderful do ahead Summer meals, and only require a few ingredients to make them truly scrumptious.
Serving them in a glass bowl makes them look prettier, but it's not a pre-requisite, and they're great for using up those tins of pantry staples when you're doing a $21 challenge.
This Mexican inspired version is not a new idea, but the addition of the Cheesey Polenta Dumplings instead of the normal corn chips is an addition that will serve us well when times are tight! The great thing is you can leave out or substitute ingredients to your hearts content with no sacrifice in flavour or enjoyment.
No Red Kidney Beans? Use any other tinned or dried beans prepared as per instructions, or even frozen peas, steamed, drained and chilled. No lettuce? Use diced cucumber. No tinned corn? Leave it out altogether. Use any cheese, any combo of dressing ingredients you like. You're only limited by your imagination and what you have on hand.
Layered Mexican Salad with Cheesy Polenta Dumplings
You can make this in the morning for serving that night.
Serves 4
For the salad:
1 tin Red Kidney beans, drained and rinsed till they stop foaming
1 tin Corn Kernels, drained
4 leaves lettuce, shredded
2 tomatoes, chopped
1 cup grated cheese (plus one cup extra for the polenta dumplings, see below)
1/2 cup Mexican salsa
1/2 cup natural yoghurt
1/4 cup mayonnaise
1 clove garlic, peeled and cut in half lengthwise
A few pinches of Ground Cumin
For the Polenta Dumplings:
Makes 8-10
1/2 cup instant polenta
1 1/2 cups milk or water
1 chicken stock cube
1 cup grated cheese
Salt and pepper
1/4 teaspoon each Ground Cumin, Ground Coriander, Dried Garlic Granules (or one clove fresh, crushed), and Chilli flakes
Make your salad at least an hour or two ahead to allow the flavour of the dressing to permeate the other ingredients. Making them in the morning for that nights meal, is perfect. Even the dumplings can be made ahead and reheated at the last minute.
Mix the yoghurt, mayo, and salsa to make the dressing, and set aside.
Set out the number of bowls that you require and rub the insides of them with the cut garlic clove. This imparts just the right amount of garlic flavour, without it being overpowering. Crush the garlic clove to add to your polenta dumplings and set it aside. Then line up your other salad ingredients and layer them in the following order, from the bottom, up.
Shredded lettuce
Drained beans or peas
Drained corn
Diced tomatoes
Dressing
Grated Cheese
Pinch of Cumin on each for additional flavour if you wish
Place the salads in the bowls to chill and become yummy.
Using a small saucepan, bring the milk or water to a simmer, and add the stock cube. Stir until dissolved and just barely boiling. Add the polenta in a thin stream and whisk continually until it bubbles and thickens. Remove from heat and add the grated cheese, spices and seasoning. Scoop from the pan onto a plate to cool for about 15-20 minutes. Once cool enough to handle, roll the polenta into ping-pong sized balls. Refrigerate the polenta balls, until you're ready to serve.
Ten minutes before you serve your salads, remove your Polenta Dumplings from the refrigerator. You can microwave, oven bake or pan fry these to heat them. I like to toss them in a lightly greased frypan to develop a bit of a golden crust on them, but oven baking or microwaving is just as nice without the hassle sometimes! Microwave in batches of 4-5 on a dinner plate for 30-45 seconds. Bake in a preheated 180C oven, on a lined baking tray for 20 minutes.
Serve your layered salad with 2-3 dumplings on top, which can then be used, like bread or corn chips, to soak up all the lovely salad juices at the bottom of your bowl.
This is light, flavoursome, nutritious and inexpensive. All up, it's about $1 per serve, if that. It's easy enough for the kids to prepare and would be a great one to add to your teenagers repertoire so you can have a night off now and again.
In fact, where's that just-turned-teen of mine...I'm sure she just said she was bored. I think it's a teen-prepped-layered-salad for us for dinner tonight!