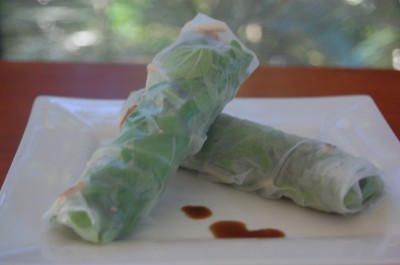 Sometimes I tire of making the stuff everyone else wants to eat. I want a treat just for me.
So here's the vegan lunch I made myself today, and it was scrumptious!
Rice paper rolls with rocket, fresh basil and toasted almond slivers with balsamic and rice malt syrup dipping sauce
2-4 rice paper roll sheets per person
1 small handful of rocket leaves per roll
2 fresh basil leaves per roll
1 teaspoon of almond slivers per roll
Balsamic vinegar
Rice Malt Syrup
Then just:
Toast the almond slivers briefly in a hot dry pan.
Pick, wash and pat dry some fresh basil leaves, keeping them whole.
Wash and dry some fresh rocket.
Wet the rice paper sheets as per instructions. Make a channel of rocket leaves, lay the basil leaves on top and top with the toasted almond slivers. Roll up, encasing the filling securely.
Refrigerate while you make the dipping sauce.
To 3 tablespoons of balsamic vinegar, add 2 teaspoons of rice malt syrup and microwave on HIGH for 20 seconds. Stir well to combine.
Serve the rice paper rolls with the dipping sauce.
Yum!