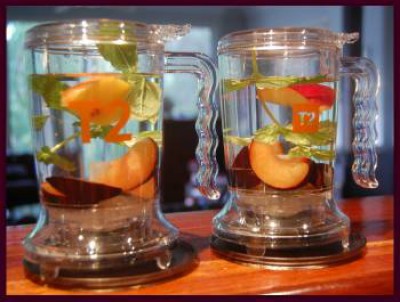 Now I don't usually recommend trendy thingos. We all know how those trendy thingos cost money, and end up shoved in the back of the cupboard.
But these trendy thingos are different.
These trendy thingos have just about eliminated coffee, tea, juice and cordial in this house. We fill them with tap water, and slivers of fruit and mint, and let them infuse for up to a day or two, topping the water level up as required. The fruit infused water is so delicious, that we've all doubled or tripled our water intake, and reduced all other drinks significantly.
My husband has reduced his coffee intake from 5 cups a day to one.
I've reduced my tea intake similarly.
My 15 year old daughter, who would previously only take popper juices in her lunch and drank way too much juice in between, now prefers her drink from her trendy thingo. She even decants it into her school drink bottle.
I estimate that our trendy thingos, have reduced our weekly grocery shop by up to $15 a week.
So what are they?
They look like a Swedish style coffee or tea press, don't they.
Well, they are....sort of.
The difference being that the strainer is in the bottom, and the decanter sits on a little plastic disc. The reason for this plastic disc, is the unique way in which you dispense your fruit infused water (or herbal tea or whatever).
You sit the jug on top of your cup and the liquid is released from the base of the jug, which you then immediately refill with more water and replace it on it's plastic disc in the refrigerator. The disc collects any drips and dribbles.
We love these. No fussing around picking the fruit out of your glass and putting it back in the jug, and no fiddling with the usual 'press' filter in a Swedish style press.
We got ours here...
http://www.t2tea.com/top-gifts/team-faves/the-teamaker-2/
At $24, we chose to give them to each other as gifts. It started with me giving one to my husband for Christmas. He then bought our daughter one for her birthday in January. And they both gave me one for Valentines Day.
But even then, at the rate at which they save us money, and encourage us to limit caffeine, and other not so healthy options like poppers and juice for our daughter, we all agree that they're well worth the money.
And they're fun!
Yes you could just put fruit in a jug in the fridge. But funnily enough, we all love these so much that we look for excuses to drink from them. That's not always the case with a normal jug of fruity water.
A win all round :)