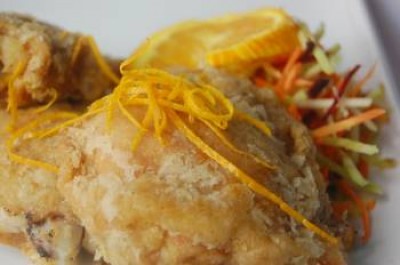 I'm so tired of hearing about the GFC, I'm rebelling. I'm having my own GFC and it's nothing to do with collapsed banks and greedy real estate companies.
It's my Ginger Fried Chicken and I promise it'll help you through the 'other' GFC by keeping you away from the takeaway outlet. And believe me, your arteries and your wallet will thank you.
The light crisp coating on my Ginger Fried Chicken beats that other greasy stuff, hands down!
You'll need:
To serve six:
6 chicken thigh cutlets on the bone, or other chicken pieces with bone intact
3/4 cup Potato Flour..available in the Health food aisle at some supermarkets, or in the baking aisle at others. Also available at health food stores. The Potato Flour gives the most delectable crisp coating, so it's worth the $3-$4. Feel free to use other flour if you prefer, but be aware that the result may vary. Rice flour is the next best bet.
3 teaspoons Powdered Ginger (for a less intense flavour, add less Ginger)
Zest of one large orange
1/4 cup oil for frying (my choice is Rice Bran Oil for it's high smoking point)
A large plastic bag
A large deep frypan or wok
Paper towels for draining your cooked GFC
Cooked potato and/or shredded cabbage and carrot for your own version of potato salad and coleslaw
Method:
I prefer to remove the skin from my chicken pieces as it's a little healthier, but if your lot prefer the chook skin-on, the end result will not be affected.
Put about the flour into your plastic bag, and add half of your orange zest and powdered ginger. A pinch of salt and pepper enhances the flavour enormously.
Toss each of your chicken pieces in the seasoned flour and set it aside. The great thing about potato flour is that it doesn't brown quickly so your chicken pieces will cook all the way through, without the coating burning.
Heat your frypan or wok over a hotplate heated to HIGH, and pour in sufficient oil to create a depth of about 2cms. Allow the oil to come up to temperature. This will take a minute or two.
Add the chicken pieces no more than two at a time. This helps maintain the temperature of the oil, so that the chicken isn't just drowning in the oil while it's cooking.
Give each chicken piece 3-4 minutes cooking time on each side, then place the cooked chicken pieces on your baking tray and pop them into the oven, and bake them for about 30 minutes to ensure they are cooked right through.
While the chicken is baking, get the kids to make your own version of coleslaw or potato salad, using your prepared steamed potatoes, and shredded cabbage and carrot. Mayo and greek yoghurt with a bit of seeded mustard stirred through is our favourite version of Potato Salad Dressing, and we love coleslaw with nothing but a bit of my own Aged Balsamic Dressing (see link) drizzled on top.
http://www.simplesavings.com.au/fora/2402629/#2911148
This dinner lends it self to a casual setup, so paper towels and baby wipes for sticky fingers, and plastic plates on the outdoor setting are perfectly acceptable.
Pile your cooked GFC onto a big platter, garnish it with the other half of the orange zest, and take it to the table. Yum!
I promise you this is just as finger-lickin'-good as the that other famous one! Who was the Colonel anyway? Some crusty old bloke who came up with some secret herbs and spices a few decades ago, and made a squillion.
Well, good luck to him and his decendants for the next several more decades, I say.
My chook in herbs and spices is just as good. And let's face it, if I'd made the squillions, I wouldn't be here with you now, would I?
Cheers!