Well a challenge extended by our friend Claire from Tasmania, led to this latest creation.
A Tall Cupcake, hollowed out with an apple corer, filled with lemon buttercream, covered in fondant, and wrapped in Vellum and raffia. I baked the cake batter in a cleaned and recycled spaghetti tin to get the right shape and height. This is also my first attempt at fondant decorations. My first lemon and leaves were picked up by my husband off the kitchen bench from where they were drying. He looked at them, didn't know what they were, so threw them in the bin...aaaargh! But they were easy enough to redo. As for wrapping the cake in fondant...well that reminds me of Paula Nowicki's Octopus wrestling story which some of us still remember fondly. Needless to say, covering cake in fondant is a lesson for another day. Thank goodness for the clever person that thought to wrap these in vellum. Google Tall cupcake pictures, and you'll see that this is the common presentation...lucky for me!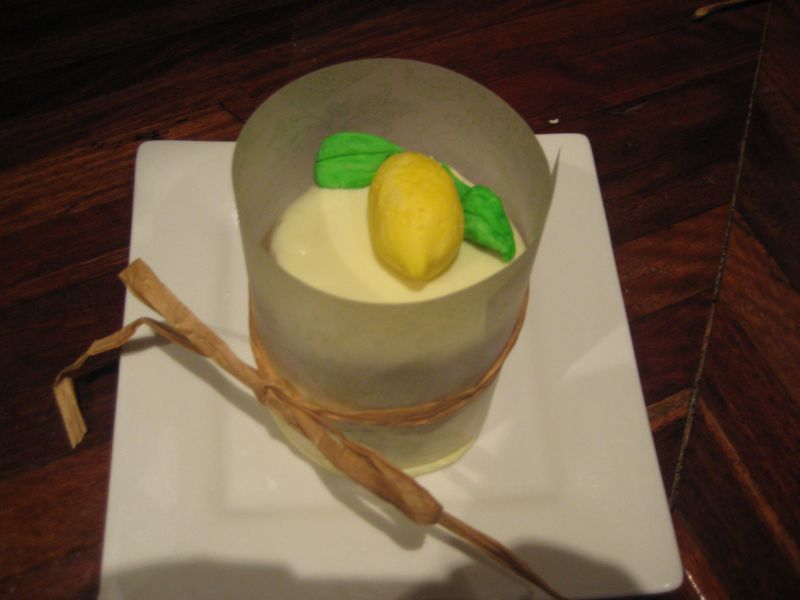 If you think mine is good, you should see what the other ladies in the Fig & Pannacotta team cooked up!
I love having a like minded bunch of friends who don't think I'm insane when I talk about a water bath, a jus or a roux.
Claire is fantastic at getting us all to extend ourselves a little, just when we thought we knew it all.
Now that DS is well and truly settled, I'm looking forward to challenging myself more as well.
Life is good.