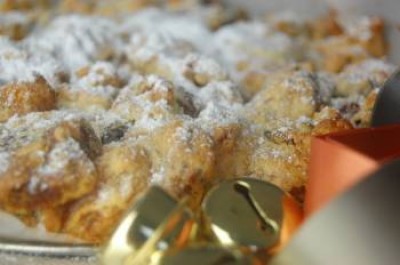 Christmas Cake is okay, but it's not a huge favourite here.
This Panforte is yummier, I reckon and makes a fab gift for special people in your life.
Here's my recipe. It's evolved over a few years, and withstands all sorts of substitutions, so don't be afraid to be adventurous!
750gms mixed dried fruit and nuts in any combination. Some recipes for this specify certain quantities, but I just use whatever I have on hand and it always turns out. We like it particularly chunky and adore whole dried figs, crystallised ginger and walnuts, with some mixed dried fruit sprinkled between.
3/4 cup condensed milk
1/2 cup raw sugar
2 tablespoons honey
2/3 cup plain flour (GF is fine)
2 teaspoons Mixed Spice or 1 teaspoon each Nutmeg and Cinnamon
2 teaspoons vanilla, rum or any other flavour essence you like
Preheat oven to 150C.
Line a cake tin with baking paper. I like to do mine in a round tin, so it slices into wedges like a regular cake. I've also found that using a spring form tin, makes it easier to remove in one piece without accidents.
Put the fruit and nuts into a mixing bowl. Add the flour and spices, and mix well.
Put the condensed milk, honey, sugar and essence in a small saucepan and bring to a simmer, stirring constantly. Simmer for one minute and remove from the heat.
Fold the warm mixture throught the dry ingredients until well combined.
Pour into the lined tin and smooth the top.
Bake for 25-35 minutes until firm to touch in the middle.
Remove and allow to cool before slicing into long thin wedges.
Present whole as a gift, either dusted with icing sugar, drizzled with melted chocolate or garnished with gold or silver leaf. Looks great wrapped in tulle, cellophane or muslin, tied in a top knot in the middle and decorated with bells or similar.
You can add flavoured essences such as Rum or Mint or Almond, cocoa, orange zest or candied orange pieces, crystallised ginger, choc bits or whatever you fancy to personalise this one too.
The gold and silver leaf, edible, is available at Cake Decorating Stores. The little silver or multicoloured cachous sprinkles are another cute idea for decorating the top of your Panaforte.
Enjoy!