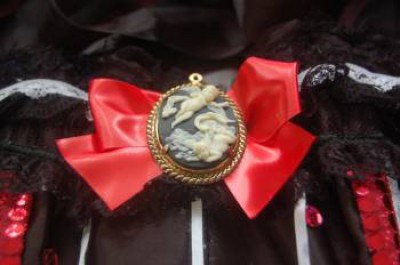 My 14 year old daughter is into vintage clothing.
Rockabilly, Glamour Girl, French frothy...the lot.
It's an expensive way to dress her though. She recently admired a dress in Kitten D`Amour..
$190 thankyou? I don't think so. I have vintage dress patterns coming out of my ears. I'll make them if it's all the same to you.
Meanwhile, she spotted their corsets, worn with a pencil skirt, heels and a little bolero. She has the skirt, heels and bolero, so it was up to me to come up with the corset.
Enter one plain black satin corset bought online for $12, to try to replicate this one priced at $169.00.
http://www.kittendamour.com/categories/corsets-and-bustiers/casablanca-corset-black.html
And here's the result...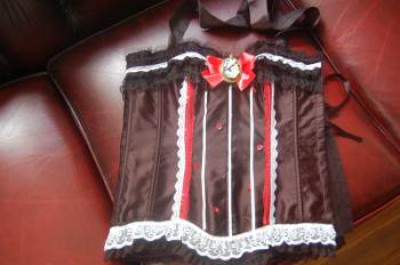 See cameo closeup above.
Cost? Nothing because all I used was scraps and a resin cameo necklace that my daughter already had. But if you had to buy all the bits? About $10.
Time needed? About half an hour maximum.
You'd need:
1 metre ruffled white lace
2 metres 2mm wide plain white lace
Scrap of red sequinned fabric (the fabric sits flat and is easily glued)
A few red sequins
1/2 metre red satin ribbon
Needle and thread (only for the bow...nothing else, don't panic)
40mm plastic/resin cameo in setting
Thin white craft ribbon
Craft glue or hot glue gun (I find the craft glue easier)
Then just:
Cut 2 x 2mm strips of the sequinned fabric and trim to size to trim along the ribs of the corset.
Cut three strips of white craft ribbon to lengths to fit the centre rib, with one strip either side as pictured.
Cut two strips of the thin white lace to fit the outer edge of the sequinned ribs.
Glue all of these into place. I found a ruler a useful tool to keep the line of glue straight.
Glue a few scattered sequins to the centre panel.
Fashion a flat bow for the centre front, by overlapping your satin ribbon so it looks like the loop for all the cancer type charity pins, then pinch the loop down in the centre to form the 'bow' and stitch it into place. The cameo will go over it so it doesn't have to be perfect.
Trim a length of the thin white lace to fit around the top of the corset. Ours already had a bit of black lace, so we just followed the top line of lace, using it as a guide.
Do the same with the white ruffled lace for the bottom.
Glue all the lace into place with craft glue.
Glue your red satin bow into place.
Glue the cameo over the bow, and apply pressure for several seconds to ensure it holds.
That's it.
We also added black satin ribbon shoulder straps.
Savings - at least $150.
Happy me, happy she :)