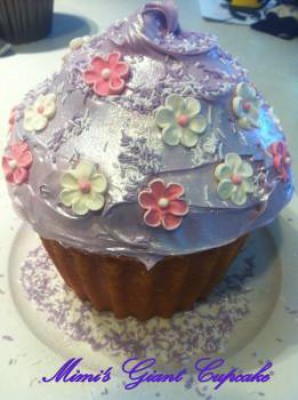 Here's a pretty cake I made for my one year old granddaughter.
It's hard to tell here, but it is in fact a gigantic cupcake about the size of a medicine ball.
I did it as a special request from my Daughter-in-Law and agreed to make it, without checking on the price of the tin. Hells Bells, the tin was $70! Fortunately for me, Spotlight had a 30% off all Wilton that week and the cake tin was a Wilton brand one, so I got off somewhat more lightly at not quite $50.
That said, DDIL had a quote from a professional cake maker at $70 for the same cake as a one off, so with the cake tin in hand, we could at least make as many giant cupcakes as we wanted for several years.
Frustratingly, I've since seen a similar cake tin at Peters of Kensington for just $20....drat! So if anyone else is looking for one, they're here...
http://www.petersofkensington.com.au/Public/Bakers-Secret-Giant-Cupcake-Pan.aspx
Anyway....
For the cost of two cake mixes, and some home made buttercream icing, plus a bit of edible pearl dust (leftover from a previous birthday cake request), some sugar flowers and some colour co-ordinated sprinkles, we had a lovely cake, and all for under $10. Better than $70, and even with the tin, cheaper than the professional cake.
But that's not where it ends.
I've now had orders for four more giant cupcakes that will earn me back the cost of the cake tin. So it's a lesson. Although we as SSers sometimes hesitate to spend on these odd sorts of purchases, the right 'extravagance', can earn it's keep very quickly, and even potentially earn some extra dollars for us leading up to Christmas and beyond.
A happy ending to an expensive outlay :)