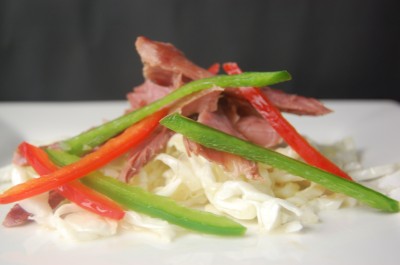 This is a bit like the succulent meat in Pea and Ham Soup.....but without the split peas...or the soup...and yummier! A fragrant mound of al dente` cabbage, and intensely flavoured succulent meat, served with some mash on the side, is perfect Winter comfort food.
It's a wonderfully economical dish too, as you can recycle the cooking liquid and reserve some of the meat. Then by simply adding your yellow split peas and cooking for a few hours, you'll have Pea and Ham soup on another night. The great thing about this method is that by refrigerating your 'stock', the fat is easily removed before making it into your Pea and Ham soup.
You can cook this in your slow cooker, or in a large pot on the stove top.
You'll need:
1 meaty hock (sometimes called Bacon, sometimes Ham, sometimes shrink wrapped and simply called 'meaty hock' in the deli section of the supermarket)
6 cups water
2 bay leaves
10 peppercorns
2 medium onions, peeled and quartered
2 cloves garlic, peeled and smashed
1 potato per person, peeled and quartered
1/4-1/2 cabbage, shredded
Some nice crisp capsicum, snow peas or carrots, julienned for a bit of crispy contrast.
Place all ingredients, except the cabbage and potatoes, into your slow cooker and cook on Low for 6-8 hours. Stovetop cooking requires about 3 hours for a similar result. Just bring to a simmer and reduce the heat to very low.
The meat is done when it simply falls from the bone. Remove all of the meat and discard the fat, bone, and skin. Chop or shred the lovely succulent meaty bits into uniformly sized pieces.
Return the meat to the liquid in the pot or slow cooker to keep it warm.
Steam your peeled and chopped potatoes and mash them.
5 minutes before serving, add the shredded cabbage to the pot, allowing it to heat through, but not become mushy. You want it al dente` like spaghetti.
To serve, scoop some of the cabbage onto your serving plates and garnish with several chunks of the meat. In this dish, the meat is meant as a smaller part of the meal due to the intense flavour. Serve the mash on the side, or underneath the cabbage and meaty chunks if you prefer. Some really earthy bread like sourdough is a great addition if you don't want the mash, too.
Add the crispy vege strips for a crunchy contrast and a bit of colour.
Yummy, easy, inexpensive.
:)