Chicken, Camembert and Cranberry Bon-Bons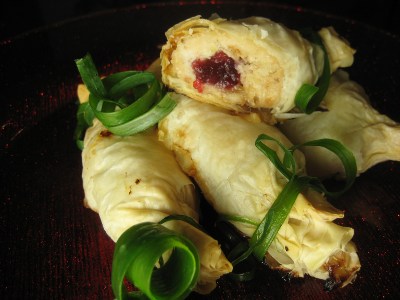 This is a real crowd pleaser. Make tiny ones for cocktail servings or make them larger for a special lunch or dinner. You'll outdo the chicken specialty stores with this home-made Christmas version of a family favourite.
Note: These are a little labour intensive, but well worth it. They can be made ahead and popped into the oven whenever required. They'll freeze well for at least a month.
Makes 12-16 cocktail size or 6-8 meal size bon-bons
Equipment:
Large bowl
Spoon for mixing
Baking trays
Scissors
Baking paper
Pastry brush
Ingredients:
500g chicken mince
1 egg, beaten
1/2 cup fine breadcrumbs
1 tbsp almond meal, almond flakes or almond slivers
(Please note: If you have a food processor, you can use 2 chicken breasts, one slice of bread and the almonds, processing until minced)
1 jar cranberry sauce
1- 2 rounds Camembert cheese
Filo pastry
1-2 tbsp butter, melted
Cooking spray
Salt and pepper
Shallots
4 tbsp plum jam (optional)
Bring the camembert cheese to room temperature and remove the soft cheese from the rind. If you have a food processor you can process the whole cheese until smooth. Place in a small bowl and combine with the cranberry sauce. If only using one cheese then halve the amount of cranberry sauce.
In a large bowl, combine the chicken mince, breadcrumbs, egg and seasoning.
With a dessertspoon (for cocktail sized servings) or a tablespoon (2-3 tablespoons of mixture for meal sized servings), place a scant spoonful of the chicken mince mixture into the palm of your hand. Form a little ball, and poke a hole into the middle of it. Place 1/2 teaspoon of the camembert and cranberry mixture into the hole and form the mince around it, enclosing it completely. Gently form into a sausage shape. Continue until all the mince is used.
Chill the mince shapes for 30 minutes.
While the mince is chilling, preheat the oven to 175C fan forced or 180C normal. Line two baking trays with baking paper.
Take the shallots and cut them where the stem turns from green to white. With a sharp pair of kitchen scissors, slice each shallot from top to bottom to give you two long strips. Cut these in smaller strips to yield 8-10 thin strips from each shallot. You'll find that if you snip at one end and gently tear, that the shallot will come away into thin strips on its own, just like gift ribbon. Immerse the strips into a bowl of hot water. They will curl up within a few minutes. These will be used as ties on either end of the cooked bon-bons.
Remove the filo pastry from the packaging and cover with a damp tea towel.
Form a production line with the mince balls, filo pastry, cooking spray and baking sheets.
For cocktail bon-bons:
Carefully remove one sheet of filo pastry from the pile, covering the remainder with a damp tea towel to prevent it drying out. Don't worry if it tears or has little holes as you pull it away as you will fold it in four and it won't matter. Spray the sheet of pastry with cooking spray or brush with melted butter. Fold in half, and half again to form a small rectangle. Place one small mince shape in the centre of one short side of the pastry sheet, leaving a space either end of the little sausage, and roll it up. Place seam side down onto a lined baking tray, and pinch the empty side bits in from the edge, forming a little bon-bon shape. Once cooked, you will tie strips of shallot around these to make them look really festive.
Repeat with mince and pastry until the mince shapes are all used.
For meal sized bon-bons:
Use two sheets of filo pastry for each bon-bon, spraying between sheets. Fold in half and fill as detailed above, using 3-4 tablespoons of the mince mixture.
Brush each bon-bon with a little melted butter to enhance browning.
Bake the bon-bons at 180C until golden brown. This will take 30-50 minutes depending upon your oven, the size of the bon-bons and whether they are being cooked from frozen or thawed.
Remove from oven and tie with strips of shallot at either end. Serve warm or cold.
*This is an early contribution I made to the SS newsletter. I'm reproducing it here on my SS blog to make it easier to access.