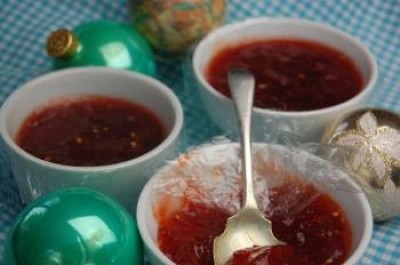 I love jam. There I've said it.
As unfashionable as it may be to say so, I adore its sticky sweetness. I could write a sonnet about how cherry conserve differs from apricot jam and how the gloop that supermarkets pass off as jam, couldn't be further from the stuff on which I was raised. That sappy sickly glue bears no resemblance whatsoever to the jam of my childhood, redolent with the summer scent of nectarines and plums, strawberries and mulberries, or even limes and lemons.
You may as well call my mums Mulberry Conserve "Memories in a jar", so strong and vivid are the recollections of freshly mown grass, the hum of crickets and the dying heat of December afternoons whilst munching on Weetbix laden with sticky mulberries dribbling in their own thick juices. She knew jam, that woman.
The house always smelled glorious after a jam-making session as well. The other kids in the neighbourhood, drawn by the mysterious bubbling, fragrant pot on the stove and the ensuing sweet, toffee-like aroma wafting down Nicholas Street, would gather around, hoping for a spoon on which to suck for a few minutes. The novelty of someone actually making jam, when you could buy it inexpensively, was the stuff of legends.
So, to continue the legend, I make a habit of coming up with a new jam flavour every summer. I gift it to friends and family, serve it with scones or fresh rounds of bread, and even now, drizzle some on the occasional Weetbix, just for old times' sake.
This year's flavour, perfect for inclusion in Christmas hampers, is Watermelon, Strawberry and Lime. And it really does taste like summer in a jar.
Watermelon, Strawberry and Lime Jam
Makes 4-5 125gm pots or jars
Equipment:
4 or 5 little jars, ramekins or pots which you're happy to give away
Lids or Jamsetta clear covers. These are found near the icing bits and bobs in the supermarket aisle, and are applied moistened to the top of your jar or bowl, and dry taut, to seal the yummy jam.
A large saucepan
Spoon for stirring
Room in the refrigerator for storage if only topped with clear covers
Ingredients:
4 cups of seedless watermelon, diced (about ¾ of a whole small melon)
1/2 cup strawberries, hulled and quartered
¼ cup lime juice, fresh or bottled
3 cups sugar
NB. This will make a traditional, intensely sweet jam, which you would use in moderation. If you prefer to reduce the amount of sugar, I suggest using a sachet of Jamsetta, also available in the baking aisle of the supermarket, to help your jam set. You can, in fact, make jam without any sugar, but you either need to cook it to death, or use the Jamsetta to get a jam, and not a syrup.
Method:
Toss the lot into a big saucepan, bring it to the boil and simmer it madly for about 15 minutes, stirring it often.
Check your jam for done-ness by placing a teaspoonful on a saucer and allowing it to cool. Push it with your finger after a minute or so, and if it wrinkles, it's done.
Spoon your pretty pink jam into your jars or ramekins, seal with lids or clear covers, and store in the refrigerator, or in a cool spot in the house.
This jam, prettily pink as it is, looks perfectly comfortable nestled against an accompanying jar of Rhubarb Chutney, some Pear Paste, a bag of homemade pancake mix, a packet of crackers and a wedge of bitey cheese in gift hampers. I toss in some cheapo shiny Christmas decorations to add a bit of festivity.
Go on. It's Christmas. An overdose of sugary fruity deliciousness won't hurt anyone, I promise. And anyone that tells you different is channelling Scrooge… bah humbug!