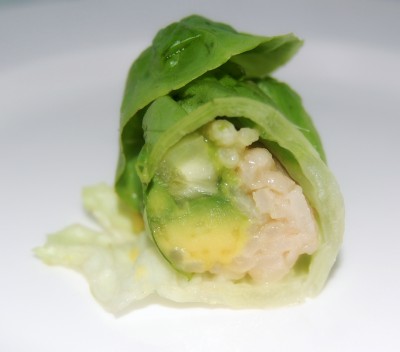 I find a lot of people are put off sushi by the nori wrapped around the outside. It's a very distinctive flavour that takes a little getting used to.
But consider that the Japanese were only using what they had available, and you can bet if they'd had lettuce around, that would have got a look in long before now.
You can use any lettuce to make your Sushi rolls, but we like Cos or Butter lettuce the best. The sushi rolls will be a little smaller and not as neat, but still utterly delicious. Iceberg lettuce leaves will give you a larger, neater sushi roll.
These are great made the night before for lunches, unlike traditional Nori wrapped sushi, which is better made shortly before consuming. Just make sure the lettuce leaves are dry first. These also do not need any special ingredients, always a bonus!
You'll need:
Whole lettuce leaves, washed, and dried well in a clean teatowel or salad spinner.
Short grain rice (eg. Arborio, Calrose, Carnoli or traditional Sushi rice) cooked by absorption method with 2-3 tablespoons of soy or teriyaki sauce added to the cooking liquid. This saves having to pack sauce in lunchboxes. Cool the rice well, before use.
Preferred fillings. We use tuna and mayo and a little minced onion, grated carrot/zucchini/raw beetroot, cooked shredded chicken or avocado slivers and cucumber sticks.
Cling wrap if making ahead of time.
Then just:
Allow the rice to cool well. I like to cook enough to last a day or two at a time, and I cook it well in advance of needing it. I'd usually do a cup of uncooked arborio rice to just shy of three cups of water, to which I add two tablespoons of soy sauce and a dash of sesame oil. This yields two days worth of sushi rice.
Have your fillings ready to go, sliced into slivers or sticks, or grated, and seasoned to your liking. We sometimes sprinkle ours with toasted sesame seeds.
Spread a lettuce leaf out flat, and press it down to break up the spine a little.
Along the edge of the leaf closest to you, and in a little, spread a spoonful or two of rice. Add your other fillings on top. Fold the edge closest to you over the filling to enclose it and fold the left and right edges in. Roll the sushi up firmly. Because you don't have the Nori to moisten and hold your sushi closed, you'll then need to wrap the sushi roll closely in cling wrap if making it ahead of time.
That's it. Simply delish :)