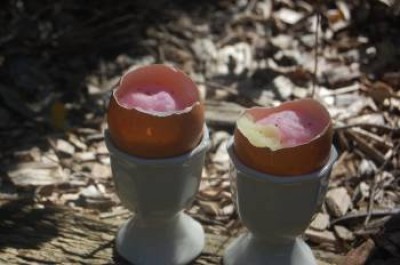 Here's the cutest ever idea for a memorable no choc Easter.
My grandparents used to raise seedlings in eggshells, just like these ones, each and every Easter.
Flowers for the girls, vegetables for the boys. Well it was the 60s, and political correctness and Girl Power was a little way off, yet.
These would be presented in an egg carton or a boxful of newly mown grass, and Grandpa would let the grass grow longer in the weeks before Easter. to ensure he had enough to pad our Easter nests.
Now is the time to get these happening, in order for the little seedlings to rear their pretty leafy heads in time for the Easter weekend.
You need:
A number of cleaned eggshells for each recipient. Try to tap the eggs sharply with a knife, about a third from the top when breaking them open. You can store the contents of the egg in the freezer or have a bake up of crustless quiche and cakes...whatever suits you.
Some cotton wool. I had these gorgeous gelati coloured cotton wool balls, gifted by a fellow SSer, so I thought they'd look particularly pretty. But the normal white stuff will serve the purpose. Seeds actually germinate faster in cotton wool as the fibres retain warmth more effectively.
A spray bottle filled with water.
Seeds of your choice. I used Strawberry as now is an ideal time to germinate and plant them.
1. Squeeze two cotton balls into each eggshell and spray with water to dampen.
2. Sprinkle a couple of seeds into each wad of cotton wool, and spray again.
3. Take a small piece of cotton wool and spread to thin webbing and place this over you seeds to protect them. You need to still be able to see the seeds clearly as in my photo.
4. Place in a warm sunny spot, and wait for little plants to grow.Check daily and mist with more water to maintain the moisture.
Present on Easter morning, in an egg carton with a map to show where to plant the seedlings and pictures of what will grow.
Gorgeous!