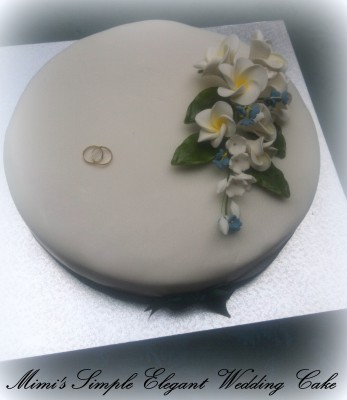 Oh my gosh.
How come, when you're already busier than a civilised human should be, someone always has just one more thing to ask of you??
This week, with my brothers wedding looming on the weekend, the groom suddenly realised that he and his bride had neglected to organise a cake.
To be fair, the whole celebration was going to be very low key, but as I said to him 'There's a difference between low-key and no-key-at-all!'.
So with no time and not much money to work with, I conjured this one up. Disclaimer....this is labelled the Broke and Busy Persons wedding cake, so there's not much in the way of 'I made it from scratch'.
This is really more of an exercise in what anyone can do with very little in the way of time or money, or perhaps even, skill!
This cake is the product of the following ingredients....
3 vanilla cake mixes made as per instructions in a 45cm round cake tin
1 kg of bought fondant
1 batch of Wilton humidity proof buttercream (which I actually did make from scratch!)
1 purchased spray of fondant flowers
1 green satin ribbon
1 cake board
So on Day 1, the cake was baked and chilled for a day (read...no time to do anything else!).
On Day 2, the buttercream crumb coat was applied and chilled for one hour, before I applied a second thicker coat, and chilled it again. This gave me a something to carve and mold into nice smooth surfaces and edges before applying the fondant. The whole thing chilled again overnight.
Day 3 (yesterday) was spent wrestling with fondant, draping it over the cake and trimming it, and brushing it with edible pearl dust, which I love for it's disguising effect.
The final touches of the ribbon, rings, and flower spray were added when the cake was transported to it's final display spot on the wedding table.
The whole thing cost less than $70. I'm not sure how much a similar professional cake would cost, but I pretty much guarantee it wouldn't be $70!
My point is, that we all think these things need to be professional and perfect, and we outlay hundreds of dollars on something that's only going to be eaten at the end of the day anyway.
With a bit of money, a lot of courage, and not too much effort, those hard earned dollars can go towards something longer lasting...a nicer ring, a special wedding night, or anything else that takes your fancy.
This cake is not perfect. But it was made with love. And the wedding today was full of love and celebration too. Therein lies the 'perfection'.
Go on. Be brave. If I can do it, you can too.