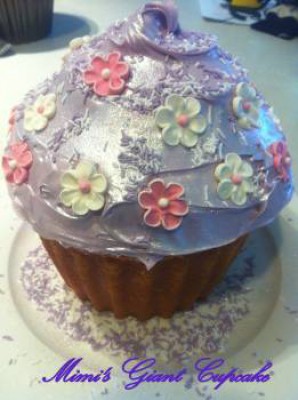 My daughter in law asked me for this cake this week.
She wanted my one year old granddaughter (well, not quite one) to smash it up for a new idea going around called Cake Smash. Quite the done thing with bubs, where you let them loose on a cake and let them do what they will. Funny, but cute.
So when she did this for granddaughter number one about eighteen months ago, she paid $70 for the cake. To smash up. Really.
This time Nanna came to the rescue.
First of all I had to buy the tin.
It looks like this...
http://www.celebrating.com.au/products/detail/10077/Wilton-Giant-Tin-Cupcake-Pan-1pk?gclid=CNb7qrv0y8ACFYGWvQodRocA_w
Two cake mixes later, it was baked.
A batch of my favourite buttercream icing tinted a pretty colour, and it was iced.
A sprinkle of pearly edible dust and some sprinkles and flowers and voila!
I nearly fainted at the price of the tin, but reasoned that we'd still be ahead and have the cake tin to boot, as I scored one at Spotlight at 30% off at a Wilton sale...talk about great timing ;0)
And even better, I've had orders for three more Cake Smash Giant Cupcakes since, at $40 each....woo-hoo!
So my $49 investment has paid off.
Who woulda thought?
This was so easy that anyone could do it.
I feel a Cake Smash SSers Cakemaking Club coming up :)