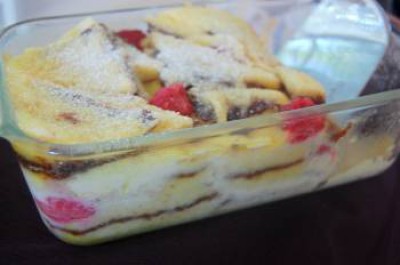 I'm making this for ME.
I'm assembling it and leaving it in the fridge overnight so that 'someone not me' can just pop it in the oven on Sunday morning.
Presto. Fab brekky and not a toast crumb in sight.
You need:
1 punnet strawberries, hulled and sliced
12 slices of bread, spread with Nutella, crusts removed and cut into triangles
600 mls cream
2 eggs, lightly beaten
1 teaspoon vanilla essence
2 tablespoons caster sugar
Then just:
Arrange the bread triangles spread with Nutella in a small casserole dish that has been lightly sprayed with Cooking Spray.
Sprinkle or arrange the strawberry slices on top.
Mix the cream, eggs,vanilla and caster sugar lightly to combine, and pour the mixture over the bread.
Cover and allow to rest in the refrigerator overnight.
Preheat the oven to 180C and bake for 35-40 minutes or until springy to the touch.
Serve sprinkled with icing sugar and garnished with a flower on a tray please Family :)